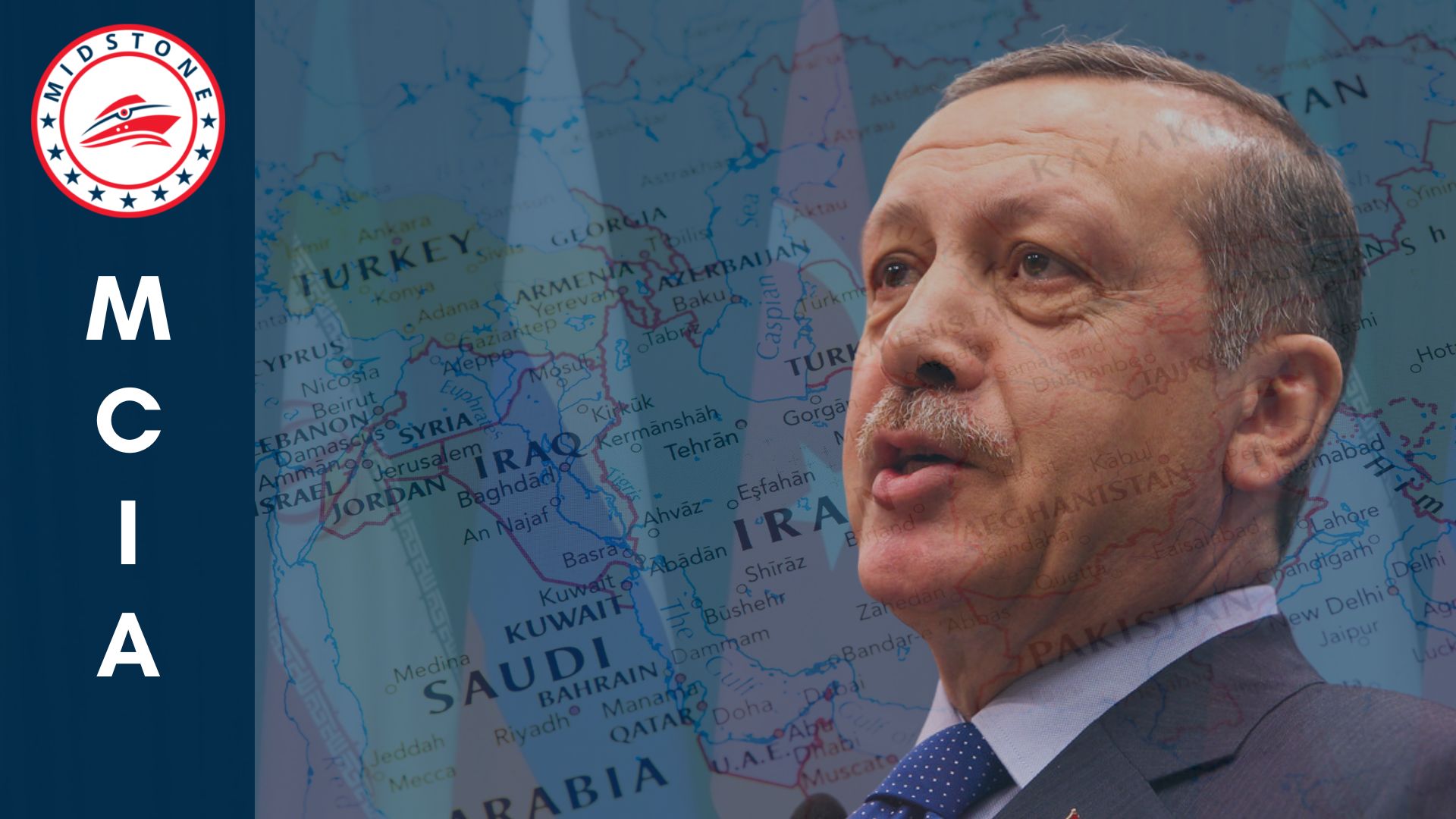 On 19th July, Turkish president, Recep Tayyip Erdogan, along with Russia's Putin, gathered in Tehran in the presence of Iran's President Ebrahim Raisi for a Tripartite Summit within the framework of Astana format.
This meeting comes amid recent allegations by the Biden administration that Iran is preparing to supply the Russian military with drones. Some analysts believe that another objective of the meeting was also to counter-balance President Joe Biden's visit to Saudi Arabia.
Iran is also seeking to work alongside Russia in West Asia and beyond to promote Iranian-Russian influence and to counter the emergence of the new Arab-Israel alliance post-Abraham Accords.
Two key topics were discussed in these meetings. First, a key topic of discussion was Syria and the civil war, where Turkey-backed groups have been fighting against Iran and Russia-backed regime of Bashar al-Assad. Another important point of discussion was Russia's blockade of Ukraine's Black Sea ports, an issue in which Erdogan and the UN are mediating to secure the passage of millions of tonnes of grain.
In this meeting, the three countries seemed to have agreed to work together to shape the future of war-torn Syria, sidestepping UN-led negotiations aimed at ending the civil war. However, Russia and Iran both seem to be opposing Turkey's plans to carry out a military operation in Syria.
Turkey has its own unique ambitions in the region. Under Erdogan, Turkish foreign policy seems to be confused. Turkey is facing two serious problems; inflation is sky-rocketing and facing instability near its borders.
Erdogan has repeatedly threatened to launch a military offensive against the semi-autonomous Kurdish administration in Syria's oil-rich northeast, something that Iran has consistently opposed. It's also worth noting that a recent report by an Israeli journalist said that Israel has lobbied Washington to oppose Turkish operation in Syria. Israel believes that a Turkish military operation in Syria would benefit Iran in the long-term.
At the same time, Turkish artillery strikes killed at least eight tourists, among them a small child, in northern Iraq and wounded over 20, officials from the Iraqi Kurdish government, a hospital and the army said Wednesday.
At least four artillery shells struck the resort area of Barakh in the Zakho district in the semi-autonomous Kurdish-run region, District Mayor Mushir Mohammed told The Associated Press. All the casualties were Iraqi citizens. Iraq's military said eight were killed in the attack. Health workers at the Bidar Hospital in Dohuk province, which received patients, said nine were killed.
The Iraqi Kurdish region's Health Ministry said all the dead were "young people and children," including a 1-year old. The ministry said 26 people had been taken to the hospital with moderate to severe injuries.
This was followed by Iran-backed Iraqi militias launching drone attacks against Turkish military bases as well as angry Iraqis taking to the streets in protest against Turkey. Turkish flags were torched in front of the Turkish embassy in Baghdad and Turkish flag of the embassy itself was lowered. Turkish government has denied responsibility for the strikes and instead blamed the Kurdish militant group the PKK for the strikes.
This incident in Iraq and the tensions in Iraq-Turkey relations undermined the optics of the Tehran gathering, which was hailed as a diplomatic success at least by the Iranian media.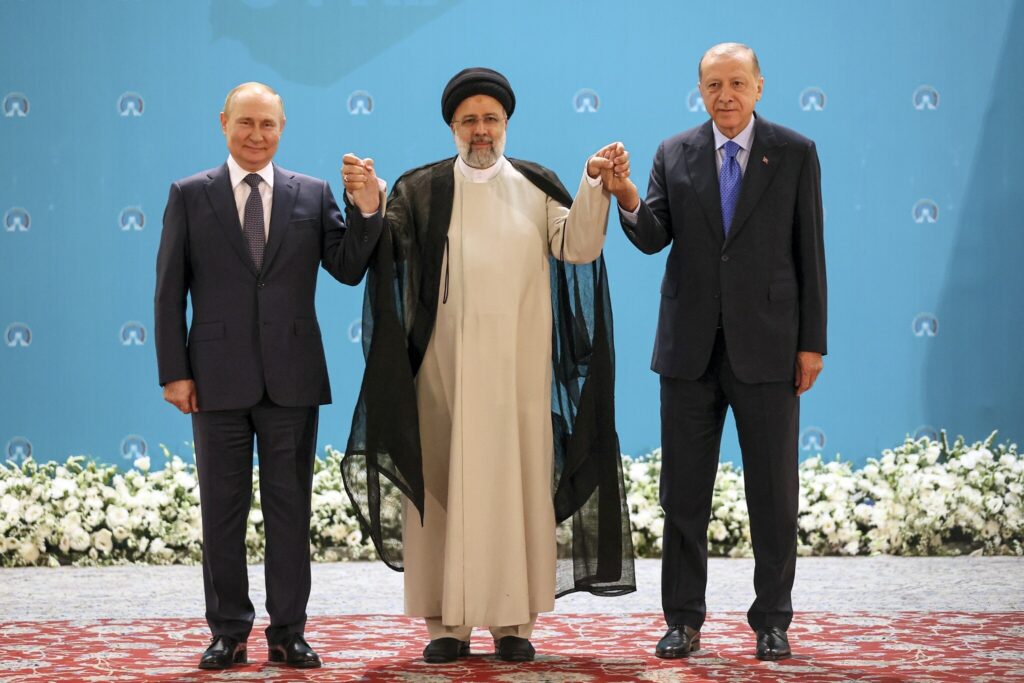 Meanwhile, Erdogan has positioned Turkey as a mediator in the Ukraine conflict. At one point, his government said that Russia's invasion is "unacceptable" and has also supplied Ukraine's armed forces with drones. But on the other hand, it has declined to follow the route of Western sanctions against Moscow and instead carved out a role for Turkey as one of the prime destinations for Russians unable to access financial services in the West. Erdogan wants to please both, the West and Putin.
This shift in power in regional and international relations is significant. Only until a while back it was Turkey that was buying the S-400 system from Russia and at the same time Ankara was increasingly isolated. Moscow also needed Ankara in Syria to disrupt the American role in the region.
Turkey, with the latest tripartite meeting in Tehran, also sends a message to NATO, which it is holding hostage by threatening to freeze the ascension of Finland and Sweden unless Turkey's demands are met. Moscow also understands this and wants to continue to use Turkey against the defensive Western alliance – and that it may need to give Erdogan something in exchange. Turkish media has increasingly been highlighting that Erdogan can still thwart Finland and Sweden's bids to join NATO.
Putin thanked Erdogan for his mediation to help "move forward" a deal on Ukrainian grain exports.
"Not all the issues have been resolved yet, but it's good that there has been some progress," Putin said ahead of his one-on-one meeting with Erdogan.
On Friday Russia and Ukraine signed separate agreements with Turkey and the United Nations clearing the way for the export of millions of tons of desperately needed Ukrainian grain — as well as some Russian grain and fertilizer — across the Black Sea. The long-sought deal ends a wartime standoff that has threatened food security around the globe, the AP reported. However, Western concerns remain.
In the Tehran gathering, both Russia and Iran urged Erdogan not to proceed with a military operation into northern Syria against Kurdish factions, including the U.S.-backed Syrian Democratic Forces (SDF). Ankara considers Kurdish groups like the PKK terrorist organisations working to undermine Turkey's government.
However, all three countries agree that the U.S. should not be involved in Syria.
Hence, it appears that Turkey no longer demands the overthrow of the Bashar al-Assad regime in Damascus. For now.