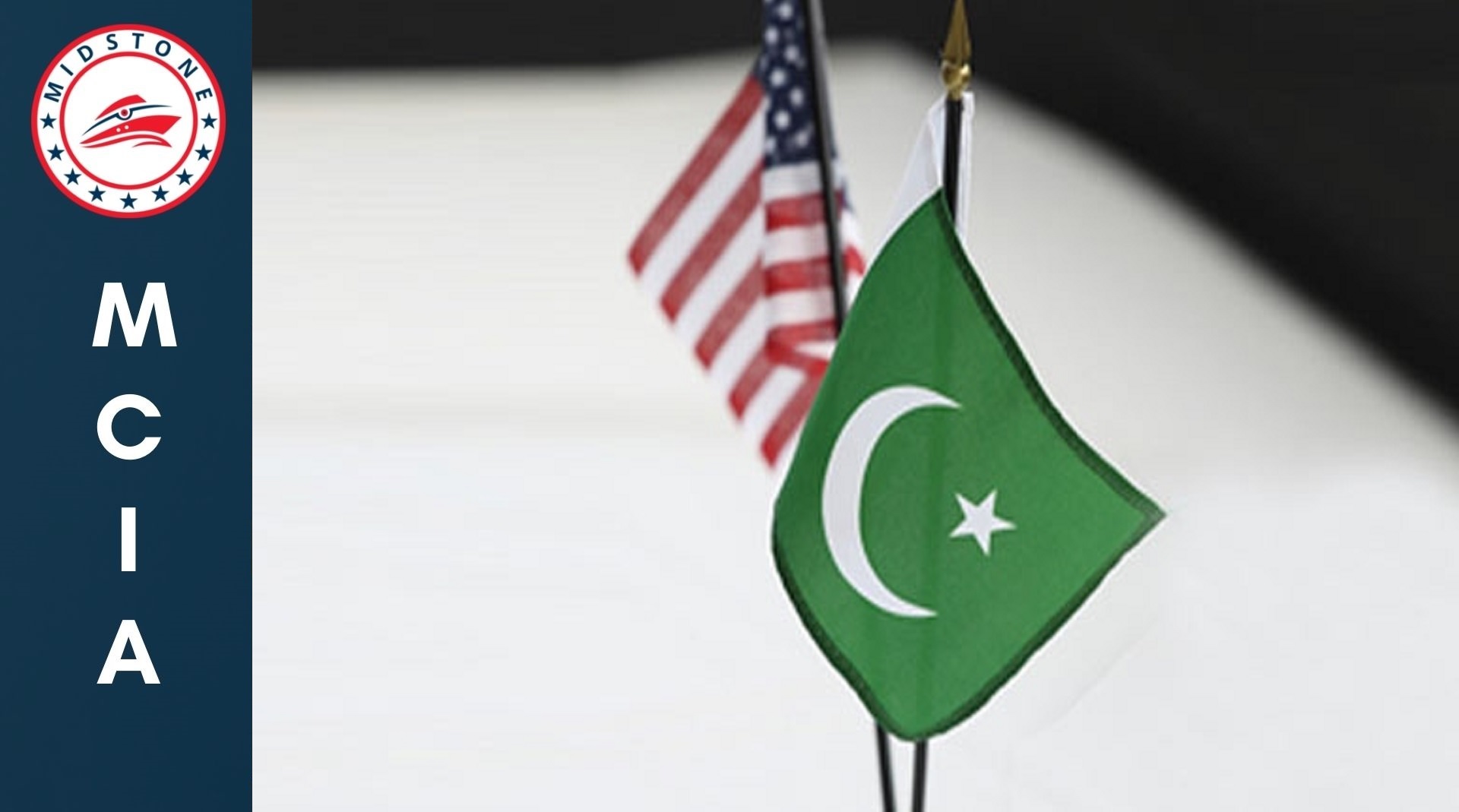 The new United States ambassador to Pakistan Donald Blome, a career member of the senior foreign service with the rank of Minister-Counselor, arrived in Islamabad to take charge on May 23.
"Ambassador Donald Blome began his assignment at the United States Embassy in Islamabad today," said a statement issued by the U.S. embassy on May 23.
On his arrival, Ambassador Blome said, "I am thrilled to be in Pakistan. I look forward to exploring this beautiful country and acquainting myself with its people and its culture. Most importantly, in this 75th year of U.S.-Pakistan relations, I will continue to build on the strong relationship between our countries."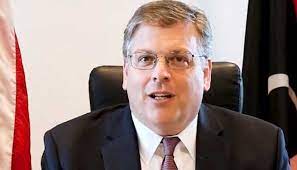 It is worth noting that Blome's appointment comes four years after Ambassador David Hale completed his three-year term in Islamabad and left for Washington to take over as undersecretary of state for political affairs.
U.S. President Joe Biden had recommended Blome, a renowned diplomat, to be the new U.S. ambassador to Pakistan last year and on December 14, 2021, the American Senate's Foreign Relations Committee held a hearing to consider his nomination. His appointment was later confirmed by the committee.
Blome holds extensive experience in the Middle East and can also speak Arabic.
Earlier in his career, Blome served as the Civilian Co-Director, Multinational Force Strategic Engagement Cell, Baghdad, Political Counsellor, Embassy Kuwait, and as Israel Desk Officer, Deputy Director and Acting Director, Office of Israel and Palestinian Affairs.
Donald Blome's new role as the U.S. ambassador in Islamabad comes at a time when Pakistan's ousted former Prime Minister Imran Khan has been leading an anti-America narrative, claiming that his government was removed as part of a U.S. regime change conspiracy.
Imran Khan's allegations have been repeatedly challenged by Pakistan's security establishment, with another clarification coming from the spokesperson of Pakistani military as recently as June 14.
While talking to a private news channel in Pakistan on Tuesday, Director General of the Inter-Services Public Relations (ISPR) Major General Babar Iftikhar said that both the National Security Committee's meetings were told in explicit words that there is no evidence of conspiracy against Imran Khan.
"[They were] briefed that there was no conspiracy or evidence of any kind [against the then government], nothing like that happened. Participants were told in detail that there was no evidence of any conspiracy," said the DG ISPR.
He acknowledged that the army and its leadership were being targeted through 'baseless rumours' and propaganda which is very unfortunate and shouldn't happen. He said that everyone was entitled to their opinion, but no one had the right to 'reject facts and target an institution and its personalities on the basis of lies.'
In his interview with Pakistan's English daily Dawn, ambassador Donald Blome also rejected Imran Khan's claim of a U.S. conspiracy against him, saying that Washington has been very clear about that.
"However, I think the best thing we can do going forward is to keep engaging across all levels of Pakistani society, as we have for the past 75 years!" he told the Pakistani outlet Dawn.
According to Blome's interview with Dawn, the engagement wouldn't be limited just with the government, but will extend to political leaders, the business community, civil society, and the youth.
Dawn further reported:
In this two-way communication, he said, he will "listen to and understand" what's happening here and "convey that understanding" to Washington and at the same time share US "views and positions as clearly and as transparently as possible" with audiences here.
With the formation of the new government in Pakistan, the country's relations with U.S. have been improving, with an invitation for Pakistan's new Foreign Minister Bilawal Bhutto-Zardari from U.S. Secretary of State Antony Blinken for attending a food security conference at the United Nations. Later, on May 18, both officials met on the sidelines of the conference in New York, which was the first highest level face-to-face contact between the two sides in months.
Ambassador Blome disclosed in his Dawn interview that "a number of follow-ups" were being planned on the basis of the agenda set by the two foreign ministers at their meeting.
Regional terrorism and U.S.-Pakistan counter-terrorism cooperation:
The most important part of Donald Blome's interview with Dawn centered around counter-terrorism cooperation between U.S. and Pakistan, which has been the defining factor in the relationship between the two countries since the beginning of War on Terror.
The Dawn reported:
Ambassador Blome said US was seeking "a strong partnership with Pakistan on counterterrorism" and expects from Islamabad "sustained" and indiscriminate action against all militant and terrorist groups.
The ambassador was specifically asked to clarify if US pursuit for strengthening counterterrorism cooperation with Pakistan included negotiations over drone basing access closer to Afghanistan, but he avoided a direct reply.
"The United States is committed to preventing the reemergence of terrorist threats, in Afghanistan or anywhere else. Fighting terrorism is a global effort. We will continue to engage partners, allies, and key states around the world on how best to address terrorism," he said while referring to President Joe Biden's statement in which he had talked about developing capabilities and deploying assets in the region to prevent the re-emergence of terrorists from over the horizon.
On Afghanistan, the envoy said, US would work with Pakistan to "press the Taliban to prevent terrorist groups from using Afghanistan as a base for external operations and to meet the international community's expectations — including pressing the Taliban to adhere to their counterterrorism commitments, form an inclusive government, and protect the rights of women and girls".
Ambassador Blome welcomed Pakistan's "ongoing efforts in countering the financing of terrorism and prioritising anti-money laundering measures".
His remarks come ahead of Financial Action Task Force's plenary meeting in Berlin from June 14. The global illicit financing watchdog will review the progress made by Pakistan, which has been on its 'grey list' since June 2018.
While there has been discussion in the Pakistani media insinuating that Pakistan is expected to be removed from FATF Grey List this year, something that so far remains officially undecided, there has been far less discussion in Pakistan on the so-called peace talks with the Tehrik-e-Taliban Pakistan (TTP), a Sunni jihadist militant group outlawed in Pakistan, U.S., UK and Canada. The group is responsible for hundreds of terrorist attacks in Pakistan, targeting both civilians and security forces, which have killed at least 80,000 people in a bloody war.
One of the deadliest attacks carried out by TTP was the Peshawar school massacre of December 2014, killing 149 people including 132 schoolchildren ranging between eight and eighteen years of age, making it the world's fourth deadliest school massacre.
TTP is allied with the Afghan Taliban and has fought beside the Taliban in Afghanistan against U.S. and NATO forces, and U.S. has also carried out dozens of airstrikes against TTP over the years. Some of the top TTP leaders, including all three of its previous chiefs – Baitullah Mehsud, Hakimullah Mehsud and Mullah Fazlullah – were killed in U.S. drone strikes. Today the top leadership of TTP including its chief Noor Wali Mehsud is based in Afghanistan, where they are provided guarantee of security by the Taliban regime.
Other than Afghan Taliban, TTP is also allied with al-Qaeda and still maintains close ties with the al-Qaeda in the Indian Subcontinent (AQIS), which also still maintains some presence in Afghanistan. Moreover, several TTP members also have links with some Sunni jihadist groups based in Syria's Idlib.
The policy of peace talks with TTP isn't new in Pakistan and in the past several similar attempts have been made, all of which failed, mostly due to TTP's unwillingness to uphold its commitments. Pakistan's former PM Imran Khan has been a staunch advocate of peace talks with TTP and in the distant past he had gone as far as arguing for opening of TTP office in Pakistan.
The latest round of so-called peace talks with TTP was kick-started during Imran Khan's government at a time when Afghan Taliban, which is considered an ally of Pakistan, had taken over Afghanistan following the U.S. military withdrawal. Many in Pakistan had expected Taliban to either take action against TTP or hand over TTP leaders to Pakistan after taking control of the country. But that's not what happened. In fact, Taliban proceeded to not just release jailed TTP leaders from Afghan prisons, who were jailed during the previous Afghan regime, but Taliban also shared some of the captured NATO military equipment with TTP and assured its leaders that they are safe in Afghanistan.
For the first time since moving to Afghanistan and shortly after Taliban takeover, the TTP leadership including its chief Noor Wali Mehsud started an open campaign to shore up support among tribal communities based along Durand Line, the alternative name for the Afghanistan-Pakistan border.
Now the situation is such that Taliban regime has refused to take any action or even apply pressure on TTP and instead it has been pushing Pakistan to strike a peace deal with TTP. Even the FBI Most Wanted Sirajuddin Haqqani, the Interior Minister in the Taliban regime and Taliban's second in command, who is also seen as Pakistan's closest ally in the Taliban regime, refused to put any pressure on TTP and said that TTP had made sacrifices alongside Taliban in the war against foreign forces in Afghanistan.
Recently a 57-member tribal jirga was selected by the Pakistani state to take part in the peace talks with the TTP and several members of the jirga were later sent to Kabul on a Pakistani military C-130 aircraft to hold direct talks with TTP leadership with Taliban regime's Interior Ministry led by Sirajuddin Haqqani acting as a mediator. Some experts also question how can Taliban act as a mediator when it has an extremely close relationship with the TTP which goes well beyond ideology.
The initial negotiations resulted in the TTP announcing an indefinite ceasefire with the Pakistani government. Earlier TTP had announced a ceasefire just before Eid al-Fitar, which was later extended.
Based on what has been reported in the media, some of TTP's demands – if accepted – could possibly jeopardize internal security of the state of Pakistan. TTP's demands for the state of Pakistan include the reversal of the merger of erstwhile FATA with Khyber Pakhtunkhwa province as per the 25th Constitution Amendment; withdrawal of all military presence from the region; enforcement of Shariah law in the Malakand division; the release of 102 jihadi commanders and fighters and presidential pardon to two key militant commanders; and complete freedom of movement for the TTP's members in the Malakand division.
The demand of reversal of FATA merger stands against the very constitution of Pakistan and is unlikely to be whole-heartedly supported by several local political actors in the country. At the same time, there has been concern in many political quarters of the country over the lack of parliamentary oversight for the negotiations with TTP.
On June 12 the Foreign Minister and Pakistan Peoples Party (PPP) chairman Bilawal Bhutto-Zardari formed a committee to engage other political parties for taking up the issue in parliament. The three-member committee formed by Mr Bhutto-Zardari comprises Qamar Zaman Kaira, Sherry Rehman and Farhatullah Babar.
Many experts and political actors in Pakistan believe that Pakistan should negotiate with TTP from a position of strength, something which has been missing. Indeed, following the Taliban takeover of Afghanistan, TTP's attacks in Pakistan significantly increased, with most of those attacks targeting Pakistani security forces and the local police. TTP carried out 42 attacks in January this year, 22 in February, 39 in March and 54 attacks in April.
The rise in TTP attacks coupled with Taliban takeover of Afghanistan and TTP getting its hands on NATO equipment, Pakistan is seeing itself on the backfoot as it is forced to negotiate with the TTP from a position of weakness.
The ideal time for any Pakistani military operation against TTP in Afghanistan was during the small window of opportunity in August-September 2021 when Taliban forces were still attempting to gain control of Kabul and Panjshir and had devoted a large portion of its resources for those operations. Pakistan would have faced minimal retaliation along the border belt, which was mostly unmanned following the collapse of the Afghan National Defense and Security Forces (ANDSF). And because TTP was and is still based along the border areas, an operation at that time would have produced good results with minimal losses for Pakistan. But that window of opportunity was missed because Imran Khan, who was the PM at the time, opposed any military action in Afghanistan, and therefore was not willing to provide political umbrella to any such action. Any Pakistani military action against TTP in Afghanistan now will likely invite direct retaliation from Taliban regime's forces, which have since taken full control of the Afghan side of the border, and a full-fledge war breaking out could result in hundreds or thousands of casualties for Pakistani security forces as well as serious collateral damage on the Afghan side.
Moreover, it is believed that Pakistani military also cannot economically afford such a war at the moment due to the worsening economic situation in the country which has seen a staggering rise in inflation. Also, since the U.S. withdrawal from the region, Pakistan no longer enjoys critical intelligence and air support from the U.S. which immensely helped Pakistani military in past operations against militant groups. Therefore, in the current overall situation of the country, the Pakistani security establishment believes that its best bet is to attempt to strike a peace deal with the TTP.
It is worth noting that any potential peace deal with TTP would require high public approval as well as political umbrella from the country's various political groups. This is something that is currently in process and some local journalists can already be seen trying to argue in favor of a peace deal and heavily implying that such a deal would be good for the country.
However, independent experts remain skeptical of the view that a peace deal with TTP would be good for the country. Quite the contrary, it is believed that first of all, a peace deal tilted in favor of Pakistan would be very hard to reach, considering the strong opposition in the younger cadres of TTP. Secondly, even if such a deal is initially signed by both sides, it would be even harder to sustain it. A precedent of this has already been set in Afghanistan, where U.S. struck an agreement with the Taliban, who in turn assured Afghans as well as the international community that they would bring peace to the country. However, that didn't happen, and now Taliban is not only facing attacks from Islamic State Khorasan Province (ISKP) and nationalist rebel groups like the National Resistance Front, but it is also facing internal divisions which often result in clashes and deaths of civilians and Taliban members. Similarly, a deal with TTP that would require their mainstreaming in tribal belt will likely increase local tensions as well as crime and militancy, instead of reducing it. Moreover, it will also encourage local extremists to increasingly look towards TTP to sort out their issues instead of relying on state machinery, therefore undermining the overall legitimacy and writ of the state.
U.S. is situated oceans across and could afford to pack up and leave, but Pakistan can do no such thing. There's nowhere for Pakistan to pack up and go. Experts believe that any deal with TTP that won't see the complete surrender, disbandment and disarming of the militant group would have dire consequences not just for the locals but also for the stability and security of the Pakistani state itself.
Even if a deal with TTP is sustained in the short-term, it will have both predictable and unpredictable consequences for Pakistan as well as for the region. One such predictable consequence will be that TTP members who are opposing the peace talks could end up joining ISKP, which will further strengthen ISKP ranks. Except this time, under the ISKP banner, these disgruntled TTP fighters could potentially carry out much more deadlier attacks including against soft targets. Moreover, ISKP poses a threat to Pakistan as well as the Taliban regime in Afghanistan but also to U.S. and its allies, and the rise in the ISKP presence in the region could create problems for everyone.
U.S. ambassador in Islamabad Donald Blome has said that his government expects Pakistan to take indiscriminate action against all terrorist and militant groups, which obviously includes ISKP. The growth in ISKP presence in the region will undoubtedly unsettle Washington and any ISKP attacks against U.S. interests or those of its allies anywhere could even provoke new U.S. military action in the region. Blome has also clearly stated that the U.S. does not wish to see reemergence of terrorist threats in Afghanistan or anywhere else, which is a hint towards Pakistan. U.S. is bound to be uncomfortable with any step that could see the return of TTP to Pakistan's tribal areas or result in the growth of ISKP in the region.
It also seems that U.S. is still open to negotiating with Pakistan for potential U.S. drone base(s) in the country in the future. At least it is something that Blome has avoided to dismiss completely. However, this time around U.S. wouldn't want any secret bases in Pakistan. U.S. would want any future base(s) in Pakistan to be public knowledge and would expect the Pakistani state to shore up enough domestic public support for such an initiative. In the current environment in Pakistan where the former PM Imran Khan has taken anti-Americanism to new heights, such an initiative gaining enough domestic public support appears to be a dim prospect at least in the short-term.
While currently the U.S. is willing to work with Pakistan to engage with the Taliban regime to make sure that the region does not once again become a safe haven for terrorist groups, Pakistan would be wise to remember that in case of an international terrorist attack that's traced back to the Afghanistan-Pakistan region, it is highly expected that the U.S. will hold Pakistan at least partially responsible. In such an event, U.S. government will likely push Pakistan as well as Taliban, which is seen as a close ally of Pakistan by most policymakers in Washington, to take action against the group or individuals responsible. In case of noncompliance, the region could once again be looking at more U.S. military action, even if a limited one.