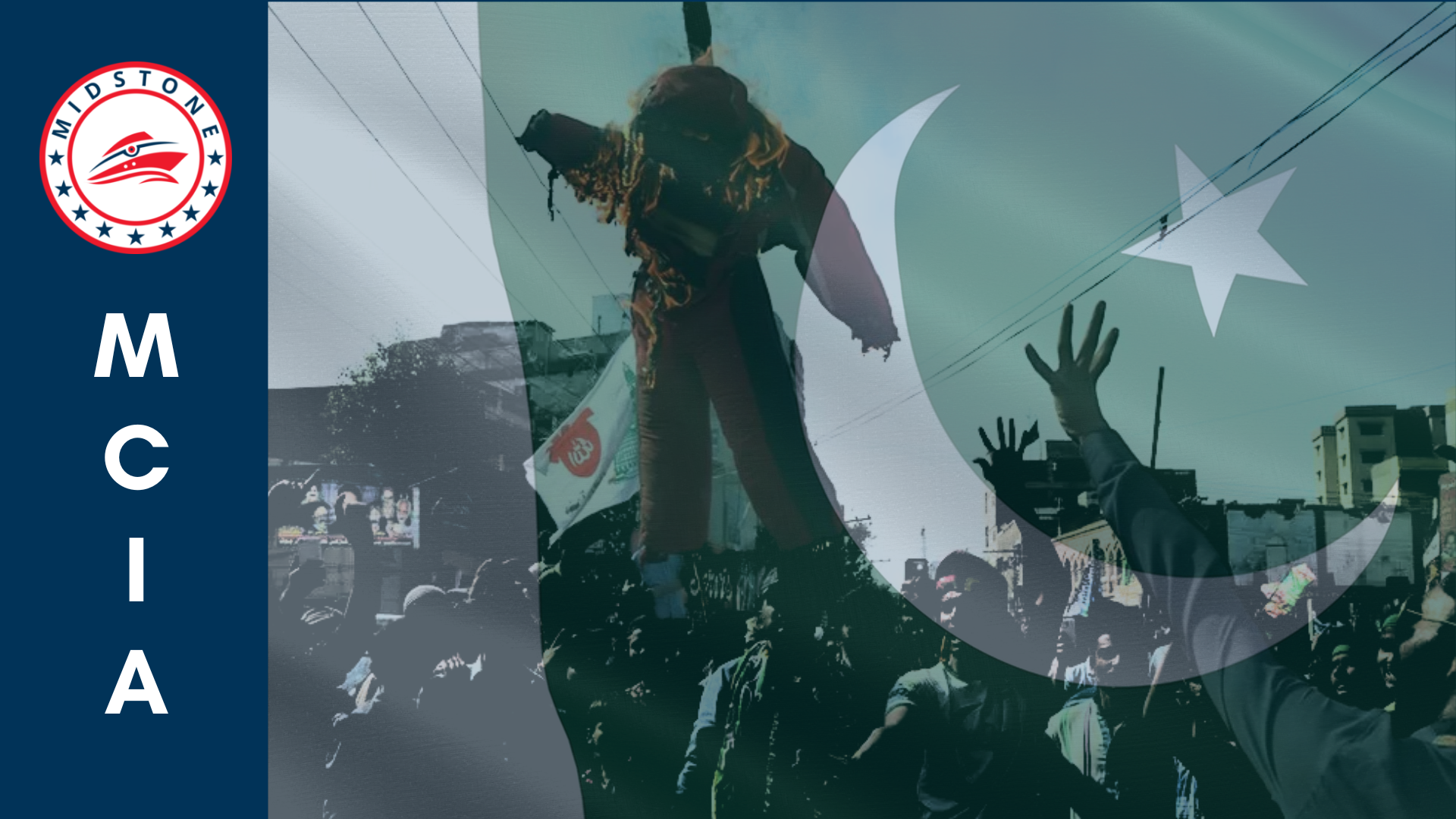 Preface
The author of this article is a Pakistani Hindu who grew up in Pakistan and has experienced firsthand the challenges of being a religious minority in the country. He wishes for the betterment of his community, other minority communities, and his country. He is an educated university graduate in a scientific field. He has chosen to remain anonymous in order to protect his identity.
Any material, including links to tweets, videos, and images presented in this article, are solely intended for evidential purposes or as illustrative examples of the topics under discussion. Midstone Centre does not endorse or support the content of such materials. We staunchly denounce any form of oppression and repression of minority rights, and we stand firm in advocating for justice and equality. We firmly believe in amplifying the voices of the marginalized and vulnerable, striving to provide them with a platform where their stories and experiences can be heard. Midstone Centre remains committed to championing the cause of the voiceless and fostering an environment of inclusivity and respect.
Pakistan's Blasphemy Accusations: A Remorseless Fire That Spares Nobody
In September 2019, I was travelling from Sindh to Islamabad by bus with my Christian and Hindu friends. When we arrived at Ghotki, the highway was blocked, causing a delay of approximately 3 to 4 hours. I stepped out of the bus to see what was happening. I discovered that a Hindu principal named Notan Lal had been accused of blasphemy by one of his 15-year-old students. I returned to the bus and told my friends the reason for the delay. I advised them to stay seated and avoid going outside because of the charged atmosphere among the gathered mob. The mob demanded the arrest of Notan Lal, resulting in a protest that began on Saturday following the filing of a First Information Report (FIR) against the school's principal. The FIR was lodged based on a complaint by Abdul Aziz Rajput, the father of a student, who alleged that the principal had made derogatory remarks concerning Islam's Prophet Muhammad. The FIR was filed under Article 295(C) of the Pakistan Penal Code [1]. Fortunately, the protests subsided at night, and we safely reached Islamabad. The following morning, I learned that the mob in Ghotki had attacked three temples, looted shops, targeted the school where Notan Lal was the principal, and vandalized multiple houses belonging to the Hindu community. Notan Lal, after being accused of insulting Prophet Muhammad (PBUH) during an Urdu lesson, spent three years in jail [2]. In 2022, he was subsequently awarded life imprisonment for the alleged offence [3][4].
Just a few months before the aforementioned incident, there was another distressing event involving a Hindu veterinary doctor named Ramesh Kumar Malhi in Phuladiyon, near Mirpur Khas. He was charged with blasphemy due to the alleged presence of Quranic verses on medicine wrappers. A local man who had received these medicines for his livestock reported this to Mohammad Ishaq, a local cleric. As a result, Ishaq filed a complaint against Malhi. The situation quickly escalated as an angry mob set fire to Malhi's clinic, and several shops owned by Hindus were looted. The mob even attempted to attack Malhi's family, but their assault was prevented by the intervention of some residents [5].
Similar cases occurred in Gojra town (2009) [7] and Joseph Colony of Lahore (2013) [6] with Christians. In these cases too, dozens of houses belonging to Christians were torched, and the inhabitants were forced to flee for their lives by Muslim mobs over the accusation that blasphemy had been committed by members of the Christian community.
During the Gojra incident, Rana Sanaullah, the provincial minister for law at that time, condemned the attack and stated that "a preliminary investigation revealed no desecration of the Quran." He further added, "It was just a rumour which was exploited by anti-state elements to create chaos.". A similar expression was used in the report on the Ghotki attack, where it was described as a conspiracy to disrupt communal harmony. For many such cases, It has become customary to blame some external force for all the problems that arise, rather than taking responsibility for one's own mistakes.
When one identifies as Hindu, Christian, or follows a non-Muslim faith, it is not only the individual who faces the consequences, but the entire Hindu, Christian, or non-Muslim community bears the burden of punishment. There seems to be a prevailing pattern whereby if an accused person from a non-Muslim background is surrounded by a mob, the likelihood of them being subjected to lethal mob violence is significantly high. Similarly, if the accused manages to hide in a secure location, there is a considerable probability that the entire community will suffer the consequences of collective punishment. This scenario unfolded in all four cases, where the mob failed to apprehend the accused, resulting in their frustration being vented through attacks on places of worship, shops, homes, and anything else they encountered in their path. In some cases like a Christian couple, Shahzad Masih and Shama Bibi, as well as Jagdesh Kumar, were unfortunate to have been found by the mob, while the mob was fortunate to have found them.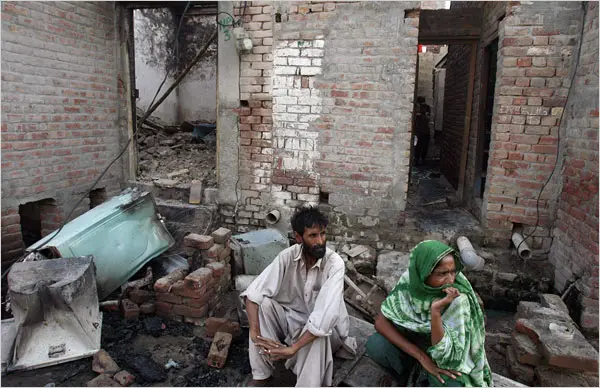 In Pakistan, an accusation of blasphemy is a grave matter due to the lack of a straightforward path to exoneration. Despite the absence of concrete evidence, lower court judges frequently experience pressure to deliver guilty verdicts in blasphemy cases.
While speaking to Aljazeera, a Lahore-based lawyer who deals with blasphemy cases says "The main issue that you face is a general mindset within the court, especially after Salman Taseer's murder, that it's a matter that has become so sensitive that nobody really wants to touch it."
Another lawyer said: "There are two kinds of judges in this blasphemy field. [There are] those who genuinely have their hands tied behind their backs, because there is a threat to their lives. But there's a fair amount of lawyers, prosecutors and judges who are making a name for themselves by … sentencing blasphemy convicts."
Even if a person is eventually acquitted after being falsely accused of blasphemy and spending years in jail, it does not guarantee a return to a normal life, free of persecution. In the eyes of the public, an accused blasphemer is still viewed as guilty and can be at risk of vigilante violence.
In 2019, a court acquitted a Christian couple who had been sentenced to death and spent seven years on death row for allegedly committing blasphemy. Prior to the couple's release, their lawyer requested that security measures be taken to ensure their safety, and said: "If they are released and are in public, they will be killed [18]." 
Remember Aasia Bibi? a Christian woman, who was accused of making derogatory remarks about the Prophet Muhammad (PBUH) during an argument with a Muslim woman in 2009. She was subsequently charged with blasphemy and sentenced to death in 2010. After years of legal battles and appeals, the Supreme Court of Pakistan overturned Aasia Bibi's conviction in 2018, citing insufficient evidence. However, her release was delayed due to protests and threats from religious hardliners who called for her execution. She was eventually allowed to leave Pakistan and seek asylum in Canada in May 2019.
In 1992, Salamat Masih (11) was charged along with Manzoor Masih (38), and Rehmat Masih (44). In 1994, after leaving a hearing, Manzoor Masih was shot and killed outside the District and Sessions Court, while Salamat and Rehmat Masih sustained injuries but survived the attack. On February 23, 1995, the charge of blasphemy against Salamat Masih and Rehmat Masih was dismissed, and they were acquitted. In the end, both Salamat Masih and Rehmat Masih had to leave their country for a "crime" which was never committed. However, at Lahore High Court in 1997, Justice Arif Iqbal Bhatti was assassinated in his chambers. 
In 2000, Mohammed Younus Shaikh, a Pakistani doctor, was charged with blasphemy and subsequently sentenced to death. However, on November 20, 2003, he was acquitted by a court. After his acquittal, Shaikh fled Pakistan for Europe [19][20]. 
Statistics
Let's briefly discuss numerical figures. While there is no central repository for obtaining precise statistics on blasphemy cases, multiple sources present different numbers. However, all these sources agree that there has been a significant exponential increase in blasphemy cases over the past two decades when comparing figures before and after the implementation of stringent blasphemy laws. From 1927 to 1986, only seven cases involving alleged blasphemy or offences related to religion were brought to attention. However, according to the Center for Social Justice (CSJ), between 1987 and 2021, over 1900 cases of blasphemy have been documented. Disturbingly, at least 84 individuals have suffered extrajudicial killings as a result of accusations. The breakdown of victims includes 42 Muslims, 23 Christians, 14 Ahmadis, two Hindus, one Buddhist, and two individuals whose religious affiliation remains unknown. While breaking the data down based on the administrative units, Punjab province takes the lead in the higher number of cases followed by Sindh [28][29].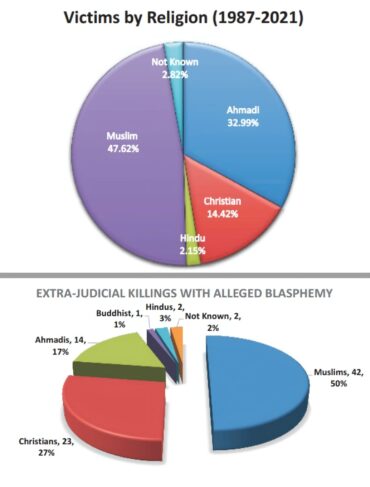 As per an additional source, at least 42 cases were officially registered in August 2020. Additionally, according to the Sindh Police, over 300 cases were registered in the province of Sindh alone over the past five years. Furthermore, the Punjab Police reported more than 200 new cases and 310 arrested under blasphemy laws 295 to 298-C in just five months of 2023.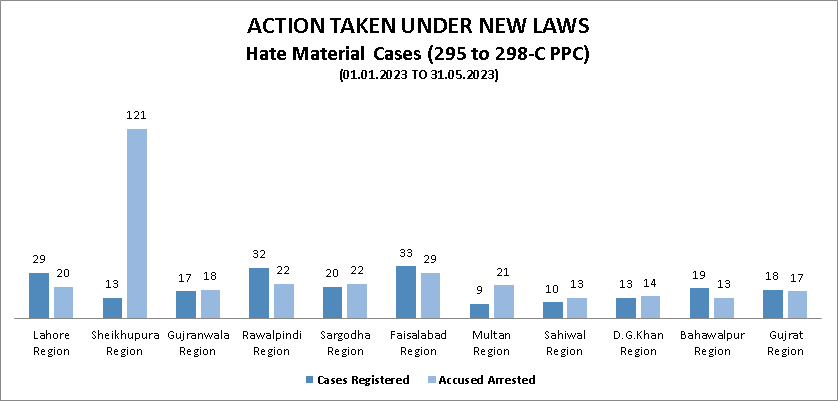 Moreover, according to the FIA (Federal Investigation Agency), more than 400,000 social media accounts are involved in blasphemy. The FIA has taken action by apprehending 140 individuals involved in online blasphemy, with 11 of them receiving death sentences from trial courts. Additionally, the High Court has confirmed the death sentences of two individuals.
Inside Classrooms
The human mind, especially during childhood, is highly vulnerable to external influences and shaping. Children are in the process of developing their cognitive abilities and forming their belief systems and understanding of the world. Unfortunately, this susceptibility leaves them open to brainwashing, where individuals or groups manipulate and control their thoughts, beliefs, and behaviours. In this passage, I will present two cases to explain how brainwashing is carried out in schools. I will mainly focus on blasphemy with a little touch on the destruction of Hindu temples, and how textbooks are designed to glorify such acts.
In school, we had to study subjects such as Urdu, Sindhi, and Islamiat. You must ask why Islamiat? The answer is simple because it was a compulsory subject. However, even in Urdu and Sindhi, there would be some form of Islamic teachings incorporated, such as Hamd or Naat recitations. When it came to subjects like Pakistani Studies or Social Studies, some chapters were presented in a way or at least teachers would present in a way that depicted Hindus in a negative light. I vividly remember that in these subjects, there would always be a point where the teacher would assert that "Hindus are wrong", "they used to be enemies of Muslims", "Hindus and Muslims can't live together" (because of Two Nation Theory) and that "our religion (Islam) is the only true one, while theirs is not". When students learn that the gods and religions of others are considered false, it is natural for them to question why those individuals don't convert to Islam. As the only Hindu student, I was barraged with questions like "Why don't you convert to Islam?" Although I didn't have a ready answer, I would often try to change the topic or divert the conversation. Most of the time, the topic would shift, but occasionally, they would insist, saying things like "Your gods are wrong, your religion is not good, so why don't you become a Muslim?" or "What is wrong with Islam that you don't like?" These kinds of remarks were not only limited to school but Hindu students have experienced the same in colleges and workplaces as well. While I may not have been confident enough to respond during my school years, as I grew more aware and cautious, I learned that answering such questions could have unknown consequences anyway. The case of Notan Lal is an example that even a school child can accuse you of committing blasphemy, with serious consequences.
Once, my eyes fell upon the 7th-grade Urdu textbook of Khyber Pakhtunkhwa. Upon looking at the content of the book, I discovered that it featured a chapter dedicated to Ilm ud Din by the title "Ghazi ilm Deen Shaheed". The story goes like this: In May 1924, the publication of the blasphemous pamphlet Rangila Rasul caused an outcry among the Muslim community in Lahore. The author's identity was unknown, and the Hindu publisher, Rajpal, faced legal action under section 153A. However, he was acquitted in 1927 as the judge ruled that discussing the life of a deceased religious leader was not prohibited by law. Rajpal's acquittal angered the Muslim community, leading to two murder attempts on his life. In response, the British government introduced section 295A in the Indian Penal Code to punish acts intended to outrage religious sentiments. The issue remained relatively quiet until 1929 when Rajpal was murdered by Ilm Din. The whole chapter portrays Ilm ud Din's act as a heroic act of defending the honour of the Islamic prophet Muhammad and presents Ilam Din as the template for a true Pakistani Muslim. The academic year in the book itself is 2020-21, so at least, until 2020-2021, this is what was taught to children.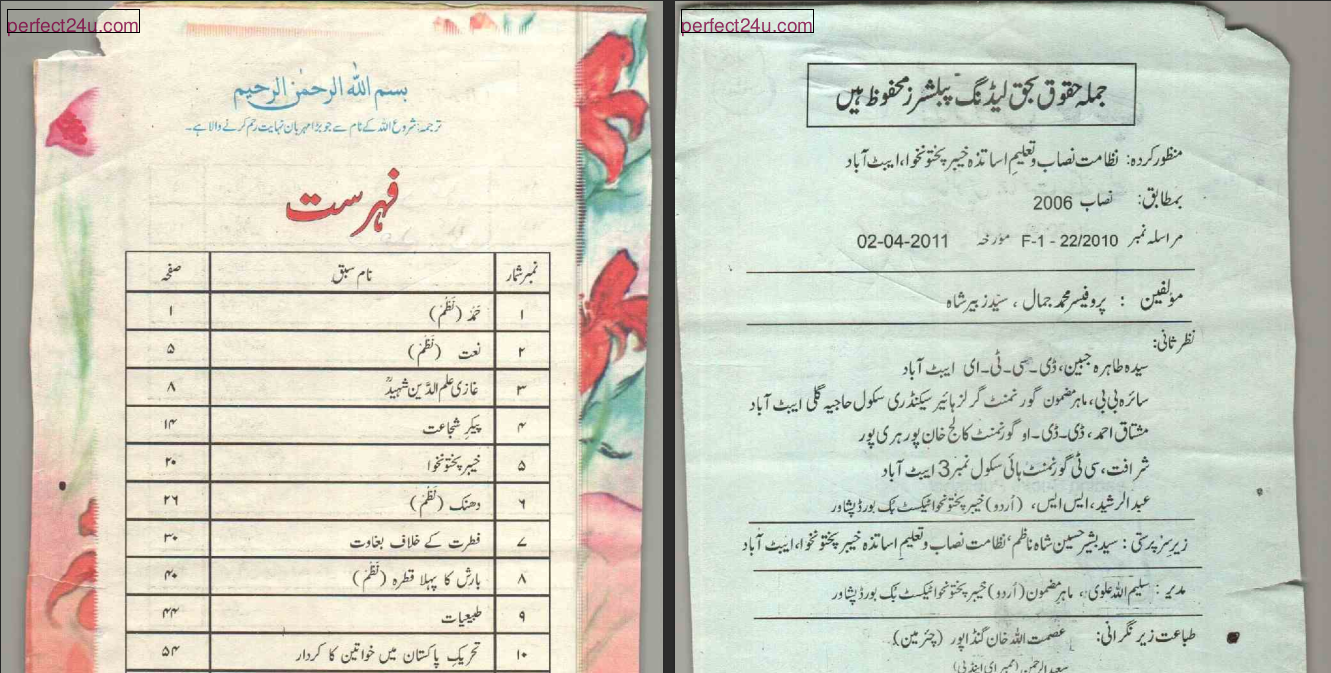 During my 10th-grade year, I recall encountering a chapter in my Urdu textbook titled "Somnaath Ki fateh" (The Conquest of Somnath). The entire chapter was presented in a manner that taught students to perceive Mahmud of Ghaznavi's destruction and plundering of the Somnath temple as acts of bravery and pride. Moreover, the chapter conveyed the idea that Mahmud should be considered a role model for Pakistanis. Interestingly, neither my classmates nor the teacher expressed any hesitation or felt that the content was inappropriate. At the same time, one can easily find many books on the same topic in any bookstore where their main emphasis revolves around celebrating the act of idol destruction. Although the curriculum has been revised in recent times, its prior inclusion has already had a significant impact on shaping the minds and beliefs of many individuals. 
The Role of Media and Politicians
In this segment, I will provide a few instances of how politicians and media have normalized idol breakers' celebration as heroic, and consider killing those who are accused of blasphemy to be justifiable.
Sheikh Rasheed Ahmed, a highly influential Pakistani politician and a trusted aide of Imran Khan, has a profound fascination with both atomic bombs and Hindu temples in India, particularly the Birla Temple. Despite serving as Pakistan's minister on various occasions, Ahmed consistently claims about Pakistan possesses weapons capable of targeting Hindu temples exclusively.
In one such instance, even while holding the position of Minister of Internal Affairs, he boldly asserted, "Pakistan is prepared to sacrifice everything, including our basic necessities, to annihilate Birla ji's temple and leave nothing behind in India."
While this statement may appear comical at first glance, it sheds light on the radical mindset of politicians who ascend to power through democratic means. Moreover, it raises serious questions about the health of the democratic system itself.
Ali Muhammad Khan, a prominent senior politician affiliated with the same political party as Pakistan's ruling party, PTI, made a controversial remark concerning the longstanding Kashmir issue and Indian Prime Minister Narendra Modi. Khan drew attention to the historical event of Sultan Mahmood Ghaznavi's invasion, looting, and destruction of the revered Somnath temple. The politician expressed his inclination to follow in Mahmood Ghaznavi's footsteps if given the opportunity [8].
Another politician from the PTI and former Foreign Minister of Pakistan. Shah Mahmood Qureshi,  made a public address, drawing a comparison between himself and Mahmud of Ghaznavi, who famously demolished the Somnath temple.
'Tolerant' Qureshi back in the day comparing himself to Mahmud of Ghaznavi out to demolish Somnath mandir. pic.twitter.com/TgTQLsrdcN

— Naila Inayat (@nailainayat) October 2, 2020
It is a common sentiment among Pakistanis to take pride in Mahmud of Ghaznavi's actions. If you were to ask any Pakistani about what first thing comes to their mind when they hear the name of Mahmud of Ghaznavi, they would respond that he was the individual responsible for destroying the Hindu temple of Somnath. 
It is worth noting individuals such as Zaid Zaman Hamid and Orya Maqbool Jan, among others, frequently appear on television and consistently engage in spreading hatred against Hindus. Their deep-seated anti-Hindu sentiments become evident when discussing India, whether it involves glorifying Mahmud Ghazni for his destruction and looting of the Somnath temple or labeling Hindus as their enemies. Interestingly, the hosts of these shows never express any concerns when guests like them propagate hatred.
Back to Blasphemy
In the year 1978, while the left-wing administration of Zulfiqar Ali Bhutto was toppled by an Islamist military coup led by General Ziaul Haq, a film depicting the tale of Ilm ud Din was released. The film depicts Ilam Din as confessing to the police and admitting his guilt for killing Raj Pal after seeing an innocent bystander get arrested. Despite objections from his lawyer, Mohammad Ali Jinnah, Ilam Din insists on pleading guilty in court and demands to be hanged to complete his martyrdom. He expresses anger upon learning that his death sentence has been appealed, but becomes overjoyed when the appeal is rejected by the Privy Council. The movie concludes with an image of Jinnah declaring that the hanging marks the end of Hindus and Muslims coexisting. This cinematic portrayal portrays Ilm ud Din as a paragon of courage, despite making inaccurate assertions that he confessed to the murder and that Jinnah rendered his services without any cost. Another movie with a similar topic and name was released in 2002.
Faysal Quraishi is one of the multi-talented Pakistani artist who works as an actor, producer, and television host. He is a prominent figure in Pakistani television dramas, reality shows, and films. Recently, he hosted a show called "Ramzan Main Bol" on Bol Network, where he featured a special segment inviting clerics from various sects to discuss Islamic views. In one episode, the topic of blasphemy was discussed, and prior to the discussion, the eulogists sang a hymn that stated, "Those who insult the Prophet will be beheaded by Muslims."
The episode in question sparked controversy and received backlash due to the views expressed by some of the guests, including Mufti Hanif Qureshi. Mufti Hanif Qureshi is known for delivering hate speeches and encouraging extrajudicial killings of those accused of blasphemy. In one of his sermons, he made statements such as:
"We explicitly say that without mincing any words that if the death penalty was not provided in section 295C for the blasphemers, Allah has given us the courage. We know how to trigger a gun and we know how  to behead the blasphemer [9]." 
Mufti Hanif Qureshi's speeches have also been blamed for influencing Mumtaz Qadri, who murdered Salman Taseer, former Governor of Punjab, for blasphemy [10]. 
Another guest featured on the show was Rao Abdul Raheem, who leads the LCBP (Legal Commission on Blasphemy, Pakistan) organization. The primary objective of this organization is to identify and prosecute those accused of committing blasphemy. Rao first gained public attention during the Rimsha Massih case, where an 11-year-old Christian girl was accused of burning the Qur'an. Rao claimed that if Rimsha was not convicted, Muslims could take matters into their own hands. According to medical reports, it was estimated that Rimsah was just 14, and exhibited a mental capacity that was lower than the expected level for someone of his age. After the hearing, Rao spoke to the press outside the Islamabad court and stated, "There are many Mumtaz Qadris in this country…This [medical] report has been manipulated by the state, state agencies, and the accused [11]." 
Later, it was found that a local cleric, Hafiz Mohammed Khalid Chishti, who accused Rimsha of blasphemy, was arrested for allegedly desecrating the Quran and tampering with evidence. The police suspected his involvement in planting pages of religious texts in Rimsha's bag, and On November 20, 2012, the Islamabad High Court acquitted Rimsha of all charges. Later on, it was reported that like Asia Bibi, Rimsha and her family had to leave the country for their lives.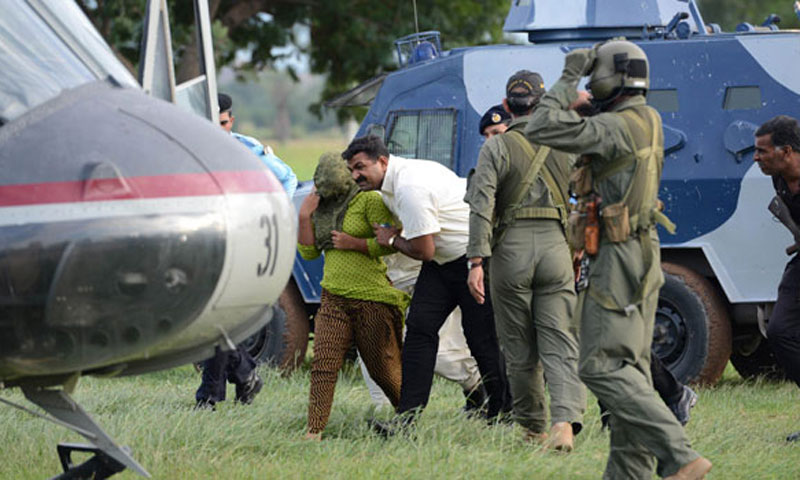 Shahroz Sabzwari, a young actor from Pakistan, holds similar views. In 2019, an aged man Tahir Ahmad Naseem, who was also a US citizen, was killed during a blasphemy case hearing against him at the Peshawar Judicial Complex by a guy named Khalid. Shahroz Sabzwari expressed his support for the killer in a tweet with the caption "SALUTE GHAZI" [12].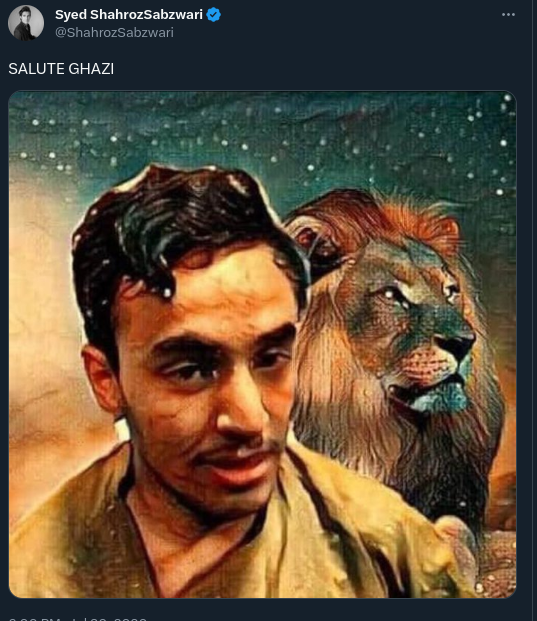 Remember Priyantha Kumara? In 2021, a Sri Lankan national and export manager at Rajco Industries was the first non-Pakistani to be a victim of mob lynching in Pakistan. He was accused of blasphemy after instructing his workers to remove a sticker with Islamic texts from a factory machine. It later emerged that the sticker was, in fact, a political poster of TLP, and Kumara had asked for its removal as part of the factory rules that prohibited political slogans within the workspace. As a strict production manager, Kumara was simply enforcing the rules. The news of Kumara's murder quickly spread on social media, attracting widespread condemnation from human rights organizations worldwide. The Pakistani government took immediate action to condemn the lynching, with a condolence event held at the Prime Minister's Office in Islamabad to pay tribute to Kumara. The Prime Minister and other political, civil society, and religious leaders expressed their anger and condemned the act of violence. 
The condemnation that took place gives the impression that such events may be happening in Pakistan for the first time. However, the reality is that the reason for such widespread condemnation this time is that the victim happened to be a non-Pakistani, and everyone's focus was on Pakistan's international image, because in the past, many such events have occurred on this issue, but no one paid serious attention or took any concrete steps to prevent such events from happening again. In fact, the opposite happened, and this fire continued to be fueled. Someone has said beautifully that a person does not have just one face. For instance, after the incident, the defence minister tweeted:
"I strongly condemn the brutal victimisation of the Sri Lankan who has been killed. The incident is not a reflection of Pakistan. Pakistan denounces extremism in all its forms and manifestations. Those responsible shall be brought to justice."
I strongly condemn the brutal victimisation of the Sri Lankan who has been killed. The incident is not a reflection of Pakistan. Pakistan denounces extremism in all its forms and manifestation. Those responsible shall be brought to justice.

— Pervez Khattak (@PervezKhattakPK) December 5, 2021
Although this may appear to be a strong condemnation, the truth is that this tweet's intention was solely for the international community. While speaking to local media he reacted differently:
"We know the reasons behind this incident. When children grow up, they become spirited and do things out of emotions. This does not mean "this was the result of that action". Each person has their own perspective, and the boys had gathered there and raised the Islamic slogan, claiming it was against Islam, they got emotional and did that [mob lynch]. This doesn't imply that all is lost. Even I can get emotional and even I could do wrong things, but that doesn't imply that Pakistan is on the path to ruin" – Pervez Khattak on the death of Priyantha Kumara
Remember the assassination of Shahbaz Bhatti? A Pakistani Christian politician who served as the Federal Minister for Minorities Affairs in Pakistan from 2008 until his assassination in 2011. He was a vocal advocate for the rights of religious minorities in Pakistan and spoke out against the misuse of blasphemy laws to persecute religious minorities, including Christians and Ahmadis. He believed that these laws were being used to settle personal scores and to target vulnerable minority communities. Sadly, Bhatti was assassinated on March 2, 2011, in Islamabad by gunmen who were believed to be members of TTP.  This murder too received widespread condemnation. Prime Minister, Yousuf Raza Gilani, of that time said "Such acts will not deter the government's resolve to fight terrorism and extremism." 
Bhatti's life was already under threat as he was campaigning against the use of blasphemy laws.  The murder of Bhatti was also condemned by cleric Tahir Mehmood Ashrafi. It's important to acknowledge Tahir's hate speeches and violent threats towards Bhatti as he was speaking out against blasphemy laws. [16]. Today Tahir serves as the head of the organization All Pakistan Ulema Council in Pakistan.
Remember the mob lynching of Mashal Khan? A student at Abdul Wali Khan University in Mardan, Pakistan, who was lynched by a mob of fellow students in 2017, after being accused of blasphemy. When Mashal Khan was murdered, initially the Awami National Party (ANP), a secular and leftist political party, supported those who committed the murder, but later they changed their position. The report of the Joint Investigation Team (JIT) that was formed to investigate the Mashal Khan lynching case revealed that the mob was incited to kill him on the pretext of blasphemy by members of the Pakhtoon Students Federation, which is the student wing of the Awami National Party. According to the report, the murder was planned beforehand, as the group felt threatened by Mashal's activities of raising his voice against irregularities at his university [14].
Remember the murder of Salman Taseer? The Governor of Punjab, who was assassinated in 2011, by his own security guard, Mumtaz Qadri, who disagreed with Taseer's opposition to the blasphemy law in Pakistan. Taseer had spoken out in support of a Christian woman named Asia Bibi, who was accused of blasphemy and sentenced to death. The Interior Minister of that time, Rehman Malik, stated that he would have killed the blasphemer himself, implying that if he were in the same situation, he would have done the same thing, as this is a matter of blasphemy [15].
In February of 2023, a charged mob entered the police station located in the Nankana Sahib district of Punjab. They proceeded to violently attack and kill a man who was being detained there. This individual had been accused of desecrating the Holy Quran, and some local residents had accused him of engaging in witchcraft. After the Nankana Sahib incident, PM Shehbaz Sharif launched an investigation and voiced his concern about the police's failure to prevent the charged mob from committing violence. However, in 2018, when Shehbaz Sharif was the Chief Minister of the Punjab province in Pakistan, he was observed inaugurating a new OPD block at the Services Hospital that was named after Ghazi Ilm-ud-din. The same individual who killed Raj Pal over an alleged blasphemy incident. This raises questions about the message that Shehbaz Sharif was sending by dedicating a building in honour of a murderer [21]. If a building can be named after Ghazi Ilm-ud-din, who was responsible for committing a murder in the name of blasphemy, then one could expect a building to also be named after Mumtaz Qadri, who committed a similar act.  Khalid, or the charged mob that lynched an individual in the Nankana Sahib district. After all, all of them committed the same act of killing an alleged blasphemer. This kind of hypocrisy is concerning, where on one hand, there are actions being taken, but on the other hand, there are tributes being paid.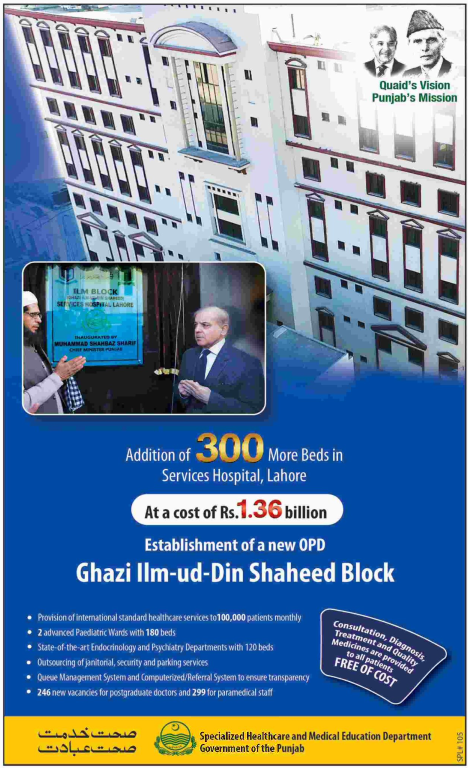 A Twitter user has attempted to clarify why it is unfair to draw a comparison between Mumtaz Qadri and Ghazi Alamuddin.  He says " Mumtaz Qadri was dishonest in his duty. Salman Taseer had not directly insulted the Holy Prophet, only objected to the misuse of the law." Implying that if you are off duty then it seems justifiable [22].
آپ سے پورا اتفاق ھے۔ ممتاز قادری کا غازی علم الدین سے موازنہ ظلم ھے۔ ممتاز قادری نے اپنی ڈیوٹی میں بد دیانتی کی۔ سلمان تاثیر نے براہ راست شان رسالت میں کوئی گستاخی نہیں کی تھی صرف قانون کے غلط استعمال پر اعتراض کیا تھا۔
بہت ایسے واقعات ہو چکے جہاں اس قانون کا غلط استعمال ہوا۔

— Muhammad Arif (@ArifRetd) October 31, 2021
If you hold the belief that only the general public accuses each other of blasphemy, then you are mistaken. The reality is that politicians in Pakistan have also been accused of blasphemy, and even by politicians against their opponents to achieve their political objectives. It's unfortunate that it has become a common practice for political rivals to throw accusations of blasphemy at each other without any consideration for the potentially severe repercussions [32].
On 3 November 2022, Imran Khan, former Prime Minister of Pakistan and a well-known advocate for the criminalization of blasphemy against Islam in the West was the victim of an assassination attempt during a protest march in Wazirabad, Punjab. The attacker, identified as Muhammad Naveed by the Punjab Police, was apprehended immediately after the incident. Naveed claimed that he targeted Khan because he believed that the former Prime Minister was spreading hatred and making blasphemous and anti-religious statements. Naveed also expressed his displeasure at the music and dancing that took place during the Azaan at Khan's march.
In April of 2022, charges were filed against the former prime minister, Imran Khan, and a group of 150 others for violating the country's blasphemy law. Their alleged offence was staging anti-government protests in Makkah. The charges in question arose from an incident where Mr Sharif and his delegation were heckled by a group of Pakistani pilgrims who were chanting derogatory slogans such as "traitors" and "thieves" during an official visit to Saudi Arabia [23].
In July 2020, a local leader from the Pakistan Tehreek-e-Insaf party  (PTI), Qamar Riaz Sulehri, registered a blasphemy case against Khawaja Asif, who is associated with the PML-N party. The complaint was made in response to Asif's statement asserting that Islam and all other religions are of equal standing.  In his complaint, Qamar said "His words are against the teachings of the Holy Quran and Sunnah, and are tantamount to blasphemy against Islam,. This is a grave crime according to the Shariah, in which he (Asif) has declared Muslims and infidels equal. [27]"  
In March 2019, Shehla Raza, who is associated with PPP, played the blasphemy card against Faisal Vawda of PTI. Later in April 2019, she herself was accused of blasphemy by the extremist outfit ASWJ [26].
During a 2018 visit to his constituency in Narowal, Punjab, former Pakistani Interior Minister Ahsan Iqbal, who is associated with PMLN, was shot and wounded by a gunman. After attending a rally in the city, Mr. Iqbal was struck in the arm at least once. The shooter, Abid Hussain, was apprehended and it was subsequently discovered that he belonged to the far-right religious group TLP. His attempted murder was influenced by Tanveer Ahmed, Ilm ud Din, Mumtaz Qadri, and Amir Cheema [24] [25].
In 2016, Tanveer Ahmed, who drove four hours from Bradford to Glasgow and fatally stabbed Asad Shah, a shopkeeper in Glasgow,  accusing him of committing blasphemy by uploading online videos where he claimed to be a prophet. Later, Ahmed was sentenced to a minimum of 27 years in prison. However, in Pakistan, Ahmed gained an increasing number of supporters who view him as a "defender of Islam" [30].
Amir Cheema, a Pakistani student in  Germany, attempted to assault a German newspaper editor in 2006 for publishing controversial cartoons depicting Prophet Muhammad (PBUH).
The fire and madness of blasphemy have not only affected common people and politicians but have also reached the former Chief of Army Staff (COAS). In November 2019, a petition was submitted by former Major Khalid Shah to the Peshawar High Court, alleging that General Qamar Javed Bajwa is an Ahmadi and holds the highest military position. It should be noted that in Pakistan, Ahmadis are considered non-Muslims and are subject to imprisonment and fines under blasphemy laws 298B and 298C if they identify themselves as Muslims, and if General Bajwa was really an Ahmedi then he would have been charged under those blasphemy laws for posing as a Muslim. Moreover, according to Pakistan's Constitution, a non-Muslim individual cannot be appointed as the army chief [31]. If even Pakistan's notoriously powerful army chiefs can be targeted with the death tag that comes with blasphemy accusations, then nobody is safe.
These are just a few examples of how politicians casually level blasphemy accusations against each other. I have only mentioned non-religious parties in this regard, but when non-religious parties behave like this, one can only imagine what the religious or far-right religious parties must be like. The PPP has had two of its political leaders assassinated for blasphemy, while both Imran Khan, the chairman of the PTI, and Ahsan Iqbal, a leader of the PML-N, survived assassination attempts due to accusations of blasphemy. Despite all of this happening, if anyone thinks that perhaps these individuals have realized how dangerous blasphemy accusations can be, that is not the case. These people still actively exploit religion in politics even today. Next time when you hear a politician claiming to work towards preventing the misuse of blasphemy laws or express their intent to address incidents such as those of Shahbaz Bhai or Salman Taseer, which may not have actually taken place,  don't just take statements at face value.
Final Comments
From the above cases, it has become evident that everyone uses blasphemy laws against each other. Some do it for political scores, while others do it for personal gains. But now people need to understand that they are playing with fire, and this is a fire that will burn everyone, and it is burning already. I have heard from many people that the solution to this should be to simply remove blasphemy laws. But for me, that time is not now. The time for removal has passed. What I mean to say is that we are currently stuck in a loop where whether the laws exist or not, there is still a problem. Let's assume for a moment that blasphemy laws should be abolished, but the question arises, who will remove them? The Prime Minister? The President? The Chief of Army Staff? Who will dare to intervene in this volatile situation? Remember the Faizabad sit-in of 2017 when in Elections Bill 2017 the word "oath" was replaced with "declaration." Here, we are talking about a complete change in the laws, so imagine the reaction that would follow. Even today, in many blasphemy cases, it happens that people file FIRs (First Information Reports) and seek legal recourse. And while fighting these cases, people say that they don't want to take the law into their own hands. Now, just think, if these laws don't exist, what will they fight with? They will resort to street justice.
In my opinion, the abolition of blasphemy laws comes in as the second step. The first step should be deradicalization. This deradicalization process should involve not only the general public but everyone, whether they are politicians or anyone else. Once society is deradicalized, then we can remove the laws. But, before that, the question arises: Is our state serious about deradicalization? If not, unfortunately, such events will continue to occur in a tragic manner.