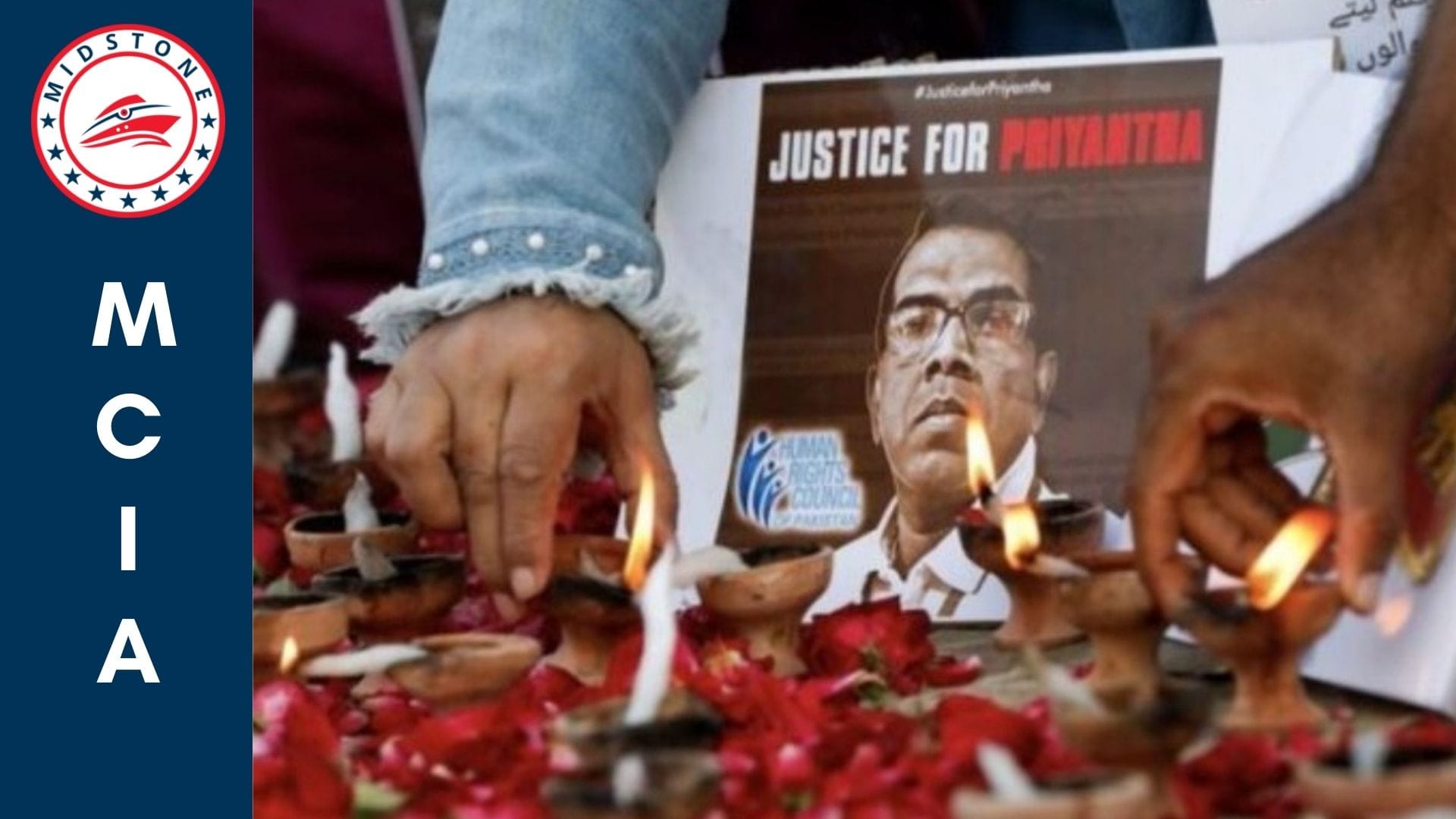 December is often associated with happiness, festivities and bonding, but in Pakistan it works conversely, being a notoriously unpropitious time of the year for its political and social interests. From the renowned political defeat of Dec 16th (Fall of Decca) in the year 1971 to losing 160+ Pakistani children at the hands of terrorism on 16th December 2014 to having a foreign worker getting mob lynched, thrashed and beaten by a group of extremists present in a copious amount, in broad daylight on the streets of Sialkot, Punjab at 10 am in the morning, December has not been a fortunate month for the country of over 220 million.
Diyawadanage Don Nandasiri Priyantha Kumara, was a native of Ganemulla, Gampaha District, Sri Lanka. He was the youngest of six siblings. He graduated as a production manager from the University of Peradeniya in 2002 and had been working in Pakistan since 2010. He was employed in Rajco Sporting Goods Manufacturing Company in Sialkot since 2012, progressing from an engineering role to a manager role.
The mob that brutally murdered Priyantha was primarily comprised of TLP workers and supporters. TLP is an acronym for Tehreek- e-Labaik Pakistan, an extremely dangerous, far-right party that is known for its extremist mindset and proclivity for being a high terror threat to the country, having various connections with local terrorist activities. This group was previously banned by governments predeceasing Imran Khan's. This group is infamous for its violent exercises of vandalizing public and private properties and for carrying out other illegal activities to dismantle the country's rapport of halcyon and security stature.
Tehreek-Labbaik-Pakistan has been famously involved in terrorism, has acted in ways that jeopardize the country's peace and security, has created anarchy in the country by intimidating the public, has caused grievous bodily harm, injury, death to law enforcement officers and innocent bystanders, has attacked civilians and officials, created wide-scale barriers, threatened, abused, promoted hatred, and has ransacked public and government property, including vehicles and equipment.
Priyantha also fell short of luck and became the victim of their barbarity, being wrongly accused of committing blasphemy. A crowd of 800 men arrived outside the Rajco factory at 10:00 a.m. on 3rd December 2021, according to Rao Sardar Ali Khan, Inspector General of Police of the Punjab Police, it was claimed that Kumara had been falsely accused of ripping a poster engraved with Islamic texts, which constituted blasphemy. Later, which turned out to be a political poster of TLP. Kumara had done that being the stringent production manager that he was, following the rules of the factor for no display of political slogans within the premises of the workspace.
Kumara was discovered on the factory top by the mob, who had been searching for him. He was dragged and badly beaten; he succumbed to death at around 11:28 am. Even his corpse was not respected, and it was mutilated and later set on fire by the bloodthirsty crowd present on Wazirabad Road.
The news of the Sri Lankan man's murder broke the internet and circulated on every social media platform, locally and internationally, garnering hard censure and condemnation from human rights platforms across the globe. While the people who actually committed the horrendous crime were seen taking selfies and recording videos with a victory sign and were conspicuously seen enjoying the killing of the innocent man as if they had done a great deed deserving of an accolade.
However, recently a new development took place on 18 April 2022 when the ATC (Anti-Terrorism Court) awarded the death sentence to six offenders on two counts and payment of PKR 200,000 as compensation to the deceased's legal heirs. The ATC, on the other hand, sentenced nine convicts to life imprisonment and has ordered them to pay a fine of PKR 200,000 as compensation to their lawful heir.
It is refreshing to know that the murderers of Priyantha Kumara have been finally put to justice, but the elephant in the room is still out there waiting to be dealt with. The rampant spread of religious fanaticism is spearheaded to disrupt Pakistan's social fabric arrantly. Crimes like these ask for task forces to commission reports and research over accounts, speeches and schools of thought that ultimately lead to such incidents. It is crucial for Pakistan's government and LEAs to come up with better and more robust policies to counter hate speech and incitement of violence. The authorities should keep a thorough check and balance to counter the narrative of religious intolerance. A mechanism to scrutinize the clerics and their speeches should be made, as they hold a key position in Pakistani society, making a majority of religious men and women turn to them to imbibe religious virtues and learnings; which are supposed to be humanistic and good-spirited.
Radicalism is the biggest and paradoxically the least frowned upon subject in Pakistan when it comes to government bodies putting efforts or when making their list of priorities because clearly the efforts have been nullified by acts like these. Pakistan today sits on the verge of total internal collapse as every other week a new blast and a new violent act takes place in someplace, and the Pakistani government has no one to blame except their own internal extremist outfits. It's never too late to start working in the right direction, but to begin with, realization and acknowledgement of the problem can prove to be a great step to usher in the efforts for counter-extremism.