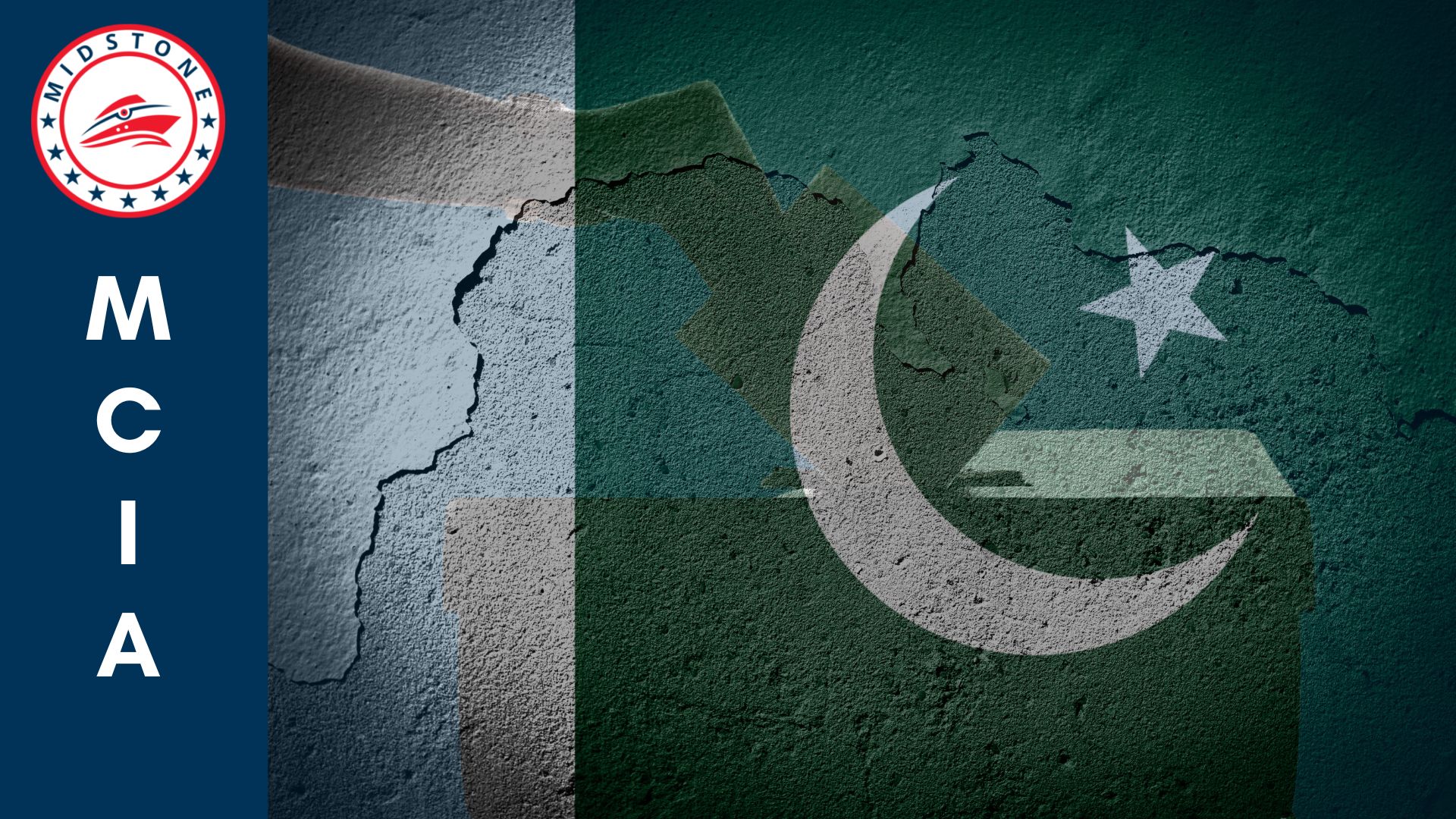 The views shared in this report represent the author's opinion.
On Sunday 17 July 2022, Pakistan's ongoing political turmoil experienced a watershed moment, whose outcome, in the long run, could determine whether the country will remain a security state, or not.
INTRODUCTION
As the global economy continues plodding toward a recession, widespread uncertainty and rampant inflation have already devastated Pakistan's economy. But rising prices, absence of basic public services, and lack of opportunities have all been overshadowed by a dominating political narrative that emerged in March 2022. Despite being the first Pakistani prime minister removed by a vote of no confidence, Imran Khan appears to be riding a grander wave of public popularity. This popularity may be attributed to protest votes against the ongoing economic turmoil, but Khan's narrative of foreign intervention and 'deliberate' internal subversion has inspired a cottage industry of conspiracy theories across the Pakistani nation at home and abroad. Khan has rallied his base and is receiving support from vast proportions of the urban middle class, the Sunni right-wing conservatives (as represented by some factions of TLP and ASWJ), as well as segments of the rural populace (especially those socioeconomically connected to the agronomy), civil society and media elite. A surprising cadre of support is those who oppose the Pakistani military's overbearing role in national politics and state decision-making processes.
Imran Khan's removal failed to bring to Pakistan the stability that his opponents proclaimed they were capable of. And the former prime minister is at pains to remind everyone that the economy crashed because he was removed from power. Substantial hikes in fuel prices and electricity tariffs have demoralized even those who still support the PML-N, the PPP, and other parties in government. Local bodies' elections in Sindh exposed rifts between the PPP, the MQM and JUI-F. As things stand, Prime Minister Shehbaz Sharif and his PML-N are being blamed for the phenomenal increase in prices of nearly every commodity available in the market. And the country's inescapably powerful military establishment – once blamed for engineering and prolonging Khan's government – is now being lambasted for manipulating and/or allowing his ouster. If there is anyone who, three months on, appears to have benefited from Khan's ouster, it could only be former president Asif Zardari, his scion and incumbent foreign minister Bilawal Bhutto-Zardari, and his party the PPP. Only time will tell what the outcome could be for the country's military establishment.
POLITICAL ENDGAME IN PAKISTANI PUNJAB
After capitulating their strong position in the national assembly, Imran Khan's PTI focused on the 17 July bye-elections [sic] for 20 seats of the Punjab provincial assembly; the largest, most populous, and most politically significant constituent of the Pakistani federation. Unlike other multi-party democracies around the world, 19 of these 20 seats were contested mainly between the incumbent PML-N and the recently ousted PTI, with many of the current PML-N candidates being PTI candidates and legislators not too long ago. These 'electables' were expected to "bring their own vote back" despite Khan castigating them in every speech. More than 4.5 million Pakistani citizens domiciled in the concerned provincial constituencies exercised their right to franchise and elected their representatives to the provincial legislature. That is the theory. In Pakistan, the theory is taught, but it often doesn't work.
Another factor that made the Punjab by-elections a high stakes election is because it determined which party secured the majority in the provincial legislature, thus attaining the legitimacy to vote its own provincial executive into power. The Supreme Court of Pakistan had ruled that Hamza Shehbaz Sharif was only de facto or 'trustee' chief minister because his election was not conducted as per assembly rules. As the court limited Hamza Shehbaz's power and authority as chief minister, the implication remains that Pakistan's most significant province was devoid of legitimate government for nearly four months, in the midst of the worst economic crisis in a generation.
Despite the PTI's victory on 15 of the 20 contested seats, their candidate Chaudhry Pervaiz Elahi was deprived of his own party's votes in the assembly by the then-deputy speaker presiding over the session. The Supreme Court overturned the deputy speaker's ruling, and when the Punjab governor refused to administer the oath of office to the winning candidate, the president stepped in and performed the ceremonial duty. The federal 'unity government' – the Pakistan Democratic Movement (PDM) led by the PML-N and supported by Sindh's PPP, Karachi's MQM, KP's ANP, Baloch parties and the JUI-F – was unable to secure the election of Hamza Shehbaz Sharif, despite last-minute machinations by PPP supremo Asif Zardari and PML-Q president Chaudhry Shujaat. The entire episode is yet another bitter example of partisan politics and ideological divisions seeping into offices of state, corrupting the very institutions that are supposed to bring the polity together.
'Control' of the largest province – in terms of the number of seats in the assembly rather than representing the political will of a majority of citizens – determines the functionality and longevity of Pakistan's federal government in large part. After the 18th Amendment, significant administrative and executive powers have been devolved to the provincial level, where they have been kept for the better part of a decade. Pakistan's constitution mandates that these powers be devolved to the grassroots level, but subsequent provincial governments have failed to live up to this promise. The conditions in Pakistan's main cities after torrential monsoon rains this July have exposed the ubiquitous ineptitude and constant negligence of provincial administrations across the country. Needless to say, the absence of rainfall (when it is usually expected) and a summer heatwave also detrimentally affected the agriculture sector on which the national economy is based. The impacts of climate change – especially torrential, record-breaking rains in the monsoon season – have eroded any weather management systems that were put in place across the metropolis of Karachi in the past two decades, or across the province of Balochistan since independence for that matter. Under the PDM 'unity government', Pakistan is lurching from one crisis to another; and every crisis is playing in Khan's favour.
GOVERNANCE AND SOCIETY IN PAKISTAN
The 17 July by-elections, and the subsequent election of the chief minister in the assembly, were an exigent litmus test for Pakistan's so-called democracy and whether free, fair, transparent and truly representative elections are even possible in Pakistan or not. This is a country where representative democracy and rule of law themselves have 'checks and balances' imposed upon them, and 'secure conduct' of elections is the state's goal once every five years. Every elected government, at every level, is usually incapable and often unwilling to solve common everyday problems. Laws, rules and procedures often work to the disadvantage of the general public, and – as Imran Khan's case itself shows – the pursuit of justice is time-consuming. Decades of hyper-securitization and military primacy have resulted in a feudal-capitalist economy, an inward-looking society, an overdependence on religion and religious identity, and the resulting global isolation and irrelevance.
Rising trends of extremism and polarization are not new to Pakistan, even though the post-April 2022 political division appears to be the most serious in the country's political history. But one must also understand that Pakistan experienced terror attacks across its territory in phenomenal numbers from 2004 to 2017. An ideological war based on identity politics was fought and won in the kinetic domain because the military is the only institution in the country that 'works'. However, this overdependence on military solutions and the constant weakening of civil institutions has generated a pervasive 'otherization' across Pakistani society. Pakistan may also be the only country in the world where development projects and even routine public service maintenance work is kept on hold while elections are going on – practically as soon as elections are announced by the election commission. But of course, Pakistanis are also told that democracy is the best revenge.
Any electoral contest that takes place in Pakistan now will be a crucial indicator in terms of redefining Pakistan and its future; it could ignite thought and debate on whether a conveniently ignored social contract can serve the purposes of a postcolonial state in a highly disruptive postmodern era, or not.
THE STATE AND THE 'ESTABLISHMENT'
One salient factor that adds to the national political uncertainty is the role and the judgments of Pakistan's judiciary. Unfortunately, as per Pakistani law, the former cannot be openly discussed; judicial conduct is discussed and penalized in judicial councils that are 'sanitized' from public scrutiny. The 'timing' of court judgments has, unfortunately, been the subject of much political debate. Nevertheless, Pakistan's experience of an independent judiciary – one that is trusted by the public – is also fairly recent. But Imran Khan is openly expressing his satisfaction with some judgments while being disappointed in other judgments. While a majority of Imran Khan's criticism is directed at his political opponents and the election commission, his frequent references to 'neutrals' or 'umpires' are construed as attacks on the military establishment (if not the judiciary as well). As an oversimplification, Imran Khan's narrative is that whoever supports him is an honest and patriotic Pakistani, whereas whoever opposes him is a thief and a traitor to Pakistan.
Ousted prime minister Khan is using the outcome of the 17 July by-elections – and his return to the 'driving seat' in Punjab – to further promote his own narrative and pursue his agenda. At the very least, Khan will try to dislodge the PDM parties' 'unity' government at the federal level. The best possible outcome for him is to restore himself and his party to power, through a larger majority (or a two-thirds supermajority) in the national assembly. But the road to that last outcome is still long and arduous – time is quickly running out.
The general consensus among political observers in Pakistan purports that since late, the core issue for Pakistan's mainstream political parties – if not also for the masses at large – is who will be the next army chief, and more importantly, who (or whose government) will appoint him. This appointment is nominally due at the end of November 2022, when incumbent General Qamar Javed Bajwa's extended tenure will expire. General Bajwa was first appointed by prime minister Nawaz Sharif in 2016 to fill the post vacated by General Raheel Sharif. Later, General Bajwa received an extension from prime minister Imran Khan's government because Khan felt it was 'unwise' to change military chiefs when the Afghanistan crisis was intensifying.
Why is the army chief appointment so important in Pakistan? And does it even matter who is in power, as prime minister or president, when a new army chief is appointed? The machinations at the highest echelon of the Pakistani military are so opaque and obscure that no definite parameters exist for an objective or outside observer to determine what makes a corps commander, principal staff officer, or even a service chief. The common understanding is that the senior-most officer is supposed to be appointed as service chief; when a 'junior' officer is appointed, those senior to him resign their commission 'in line with precedent and tradition'. It is also believed that a prime minister can appoint the head of military service at his or her prerogative, and may issue binding advice to the president in this regard. In such a scenario, the outgoing service chief would have reportedly made a recommendation from amongst the names forwarded by the Ministry of Defence [sic]. The weight of such a consequential 'seal of approval', if any, is open to debate.
All of that is expected to be the central topic of discussion among Pakistanis during the coming months, starting from September. Everyone, and especially the media, will be discussing the 'who' and the 'how' and the 'when'. But realistically speaking, nobody will have a say in the matter. When the time comes, a list of three or four (or more) names will be sent, the speculation will reach a crescendo, then the appointment will be finalized and the announcement will be made, after which everyone will present their retrospective analyses and (often obsequious) assessments and opinions.
Imran Khan's goal is to precipitate an election to the national assembly well before it is time to appoint a new army chief in Pakistan. Note that so far, Khan seems to be building pressure only for a federal election: to all 272 contested seats after the dissolution of the incumbent 15th national assembly, leaving the four provincial legislatures to continue their ongoing tenure till August 2023. This would be in line with his attempt to prevent the vote of no confidence that resulted in his removal. Khan's victory in the 17 July by-elections, and the Supreme Court sanctifying his candidate as provincial chief executive, supports the notion that the incumbent Punjab assembly is likely to complete its tenure over the next 12 months. Khan not only needs to ride the ongoing wave of popularity and translate it at the ballot box quickly but must precipitate it as soon as possible: well before October 2022.
Now that Khan's PTI is in control of both KP and Punjab, there is renewed pressure on him to overcome his past failures and deliver better results than his opponents. Khan will be forced to prove that the economy crashing with his departure was not coincidental; that if his removal actually caused the economic meltdown, then he alone can fix it. With Chaudhry Pervaiz Elahi as Punjab's chief minister once again, Khan may have the best possible opportunity of turning this influential province's fortunes around. But this is easier said than done: Pervaiz Elahi was able to perform in his first tenure because he enjoyed very cordial relations with then-president General Pervez Musharraf. Khan's anti-establishment stance, and the widening rift within the PML-Q, may prove to be unimaginable challenges for Elahi.
If the PDM 'unity' government is able to hold off Khan's pressure till November 2022 and beyond – all the while lambasting the PTI governments in the provinces and blaming them for the ongoing economic meltdown – then Khan and his PTI could lose popularity and momentum at an exponential rate. Moreover, the PML-N is seriously contemplating the return of former prime minister Nawaz Sharif (the 'N' in the PML-N) so that the party stands a serious chance among the electorate. Cases against Sharif, and possible legal action against Khan, would complicate the situation and increase the involvement of the courts.
IMRAN KHAN AND HIS NARRATIVE
It is not so much Khan's narrative of him being ousted in a 'regime change' manipulated by the US, but the Pakistani economy's tailspin in conditions of global supply chain crisis and commodities supercycle which is responsible for a significant proportion of the PTI's current popularity, as well for as Khan's potential ballot box strength in the form of a protest vote. The time Khan has now spent out of office also seems to be a learning opportunity for him, who has acknowledged some (not all) of his mistakes. He has admitted that he was 'too trusting', and realized too late that if power is given to him, it can also be taken away from him if he 'does not toe the line'.
Before as well as after losing everything, Khan retaliated instead of kowtowing to the establishment and began presenting himself as an honest-to-God democrat who wants all institutions to perform their legal duties within constitutionally defined limits. Khan's blame on the US, and on the military for engineering his downfall at the American behest, have been officially and vehemently denied by the army. The military's spokesperson reiterated that all principals agreed at a national security committee chaired by then-prime minister Khan that there was no conspiracy. Khan has gone so far as to imply that Pakistan was being 'held back' by the appointment of the next army chief, and that the country had to choose between "stability or a new army chief".
As to whether he wants the military establishment to remain 'neutral' or not, Imran Khan himself has changed his mind on multiple times since March 2022. After all, he believes that it is the sign of a great leader to go back on their word and their promises and statements: or, as he and his detractors say, to take 'U-turns'.
But a modicum, however small, of personal growth and greater political understanding, is presenting itself and can be witnessed in Khan's latest speeches and approaches. His emphasis on real democracy and people power ought to be appreciated. But when he wants hidden hands to cease meddling in elections, surrender their exorbitant power and 'go back to the barracks', many are reminded of how Khan himself was brought to power in 2018, when the Result Transmission System (RTS) of that year's general election 'went down' and the eventual official result gave the PTI a tenuous majority.
It may also feel nice to hear Khan talk again about rule of law and freedom of expression, as he did at a PFUJ seminar on Saturday 16 July 2022, where he defended his performance and claimed that he was neither aware of, nor authorized, the apprehension or 'abduction' of journalists during his tenure. But ensuring the fundamental rights of all citizens living in what is still a national security state, and balancing freedom of expression with the dignity of human beings, is easier said than done. If Khan really wishes to force – or convince – the military establishment to limit themselves to their constitutional role (and thereby cede their immense powers to the elected civilian leadership) and diminish their primacy in national affairs, then he must convince not just the military, but also the citizenry, that he (and his team) is capable enough – and well prepared – when it comes to evaluating and overcoming Pakistan's enormous security challenges.
For now, it appears that the Punjab by-elections have restored Khan's contacts with the military establishment. Meanwhile, Khan has retained the initiative and his narrative has sustained momentum: his social media echo chamber can choose when to label which journalists, politicians, civil servants, judges, generals, or anyone else, a "traitor".
CONCLUSION
'Civilian supremacy' – a watered down and practically emasculated version of the concept of 'civilian control of the military' – will not be possible as long as Pakistan's mainstream politicians continue to be autocratic vestiges who made their name and fame during the rule of past military dictators. The solution to Pakistan's problems lies not just in elections, but in truly representative leadership that could – and should – be empowered to solve everyday problems, elicit public opinion on important matters, and solicit citizen support for their activities and initiatives. Using Islam or national security as a guiding factor for political decision-making has not served the long-term interests of Pakistan over the last half century. Continuing down such a path might lead to conditions of civil unrest akin to Sri Lanka, or worse. PTI's victory against all odds in the 17 July by-elections has likely prompted Khan's desire to take a political and electoral route to achieve his goals. Nevertheless, Khan can always trigger an eruption of public anger that spills out as mass violence on the streets of Pakistan, since he and his narrative appear to retain popular appeal. Khan can still choose to bring Pakistanis out to protest for any reason he sees worthy, and against any entity (real or hypothetical) that he decides to vilify at any point in the future.