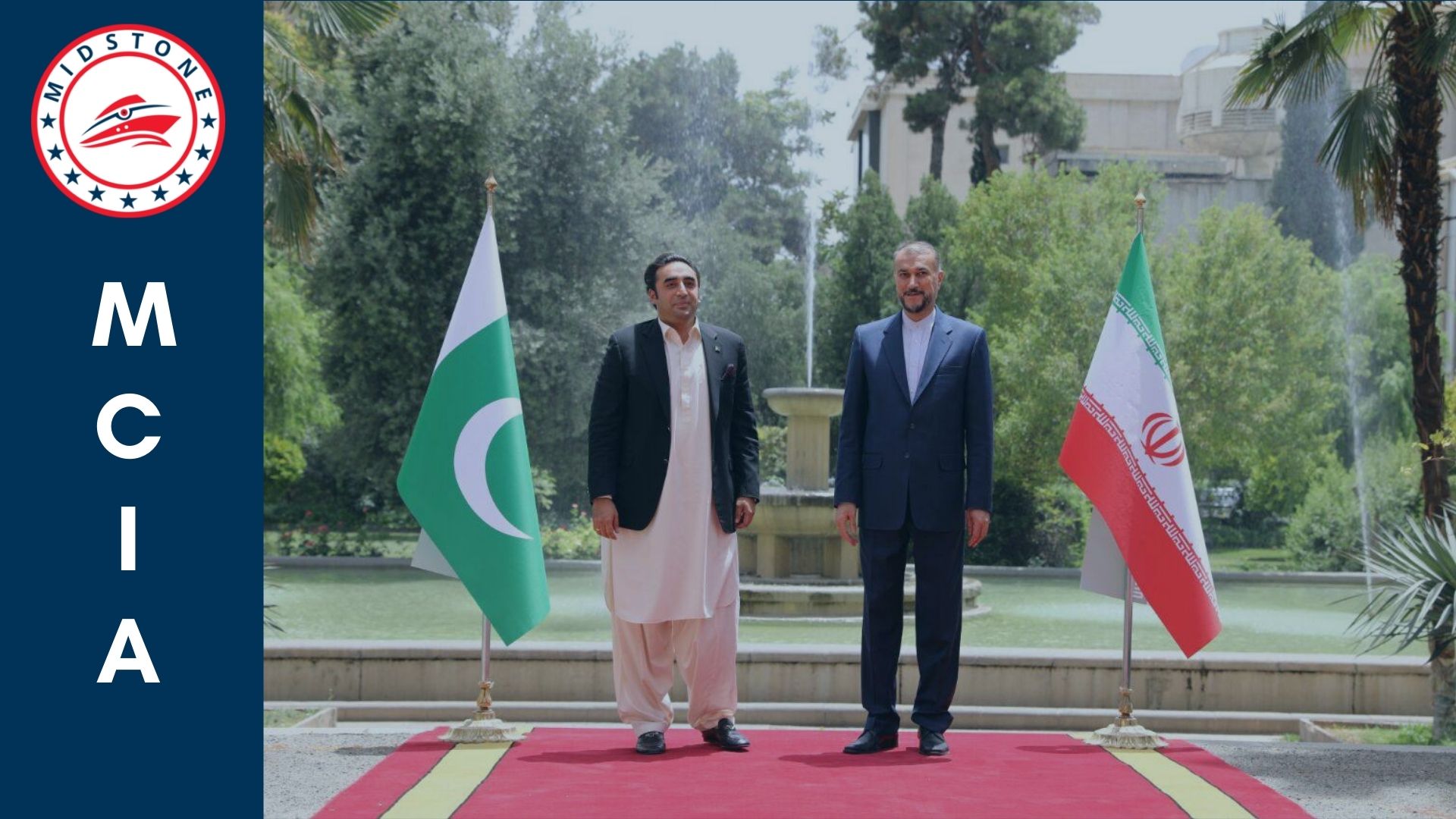 On the 14th of June, the Foreign Minister of Pakistan Bilawal Bhutto visited Tehran. 
This visit and accompanying rhetoric raised many eyebrows in a Pakistan that has been a victim of widespread Iran-sponsored terrorism and political interference.
Typically in Pakistan, for every voice against Iranian hostility and every move by the military establishment to counter Iranian influence in Pakistan, there are counter ideas and forces – some unwitting and some malicious. This is the uncomfortable reality of Pakistan's Iran confusion.
Bilawal Bhutto's visit to Iran
On the 14th of June, Pakistan's Foreign Minister Bilawal Bhutto met with President of Iran Ayatollah Ebrahim Raisi. He conveyed the greetings of the Prime Minister of Pakistan Shehbaz Sharif, who was not present and invited him to visit Pakistan at his earliest convenience – a reiteration of Prime Minister Shehbaz Sharif's invitation in April to Iran's President Ebrahim Raisi to visit Islamabad.
Foreign Minister Bilawal Bhutto expressed the importance of regular exchanges between the leaders of Pakistan and Iran in order to advance cooperation in a number of key areas, such as trade, energy, regional connectivity, and border trade. President Raisi also stressed the importance of economic relations with Pakistan, suggesting that they had considerable room for growth.
The Pakistani Foreign Minister also discussed issues related to human rights, including the release or transfer of Pakistani prisoners detained in Iranian prisons, as well as the facilitation of Pakistan's Shia Muslim pilgrims visiting Iran. Iran President Raisi emphasized the historic and supposedly fraternal ties between Iran and Pakistan,
"As much as I am a child of Pakistan, I am also a child of Iran." – Bilawal Bhutto
In what was a controversial moment, the Foreign Minister of Pakistan expressed his strong sentiments for Iran by giving such a statement while on Iranian soil. Although the FM was likely referring to his family's historical ties with Iran, as his grandmother Nusrat Bhutto was an Iranian-Pakistani of Kurdish origin, but by giving this statement while representing Pakistan in Iran sent a wrong signal not just to the public in Pakistan but also to his hosts in Iran. The statement seemed to suggest a level of unconditional favour towards a country that many in Pakistan, especially the military top brass, consider to be a significant geopolitical and security challenge due to Tehran's hostilities and interference in Pakistan.
Some endeavours appear to have been agreed upon, such as the release of prisoners and providing Pakistan's coastal city of Gwadar with electricity. During his time as Pakistan's foreign minister during the previous government, Shah Mahmoud Qureshi was criticised for 'kinnow diplomacy', as after prioritising an improvement of relations with Tehran, while damaging ties with Riyadh, Pakistan got little out of Iran except for the sale of kinnow citrus fruits which the then foreign minister lauded as a major achievement.
Iran to provide electricity for Gwadar; following Pakistan's fresh official request.#FMBilawalVisitToIran #Outcome #PakIranRelations pic.twitter.com/gTUQl9Rsdw

— Zahid Gishkori (@ZahidGishkori) June 17, 2022
After returning from Iran, the present Foreign Minister Bhutto met with Saudi Arabia's Ambassador to Pakistan, where they exchanged views on a wide range of issues of mutual interest, including economic cooperation. However, given the Iran-Saudi Arabia rivalry, Islamabad's sinking relationship with traditional ally Riyadh and the importance of resurrecting better days, it was inappropriate of Foreign Minister Bhutto to declare himself a "child of Iran" just before holding a meeting with the Saudi diplomat, which was overall very bad signaling.
The timing of the visit and long-standing factors
The itinerary of Foreign Minister Bilawal Bhutto gives some insight into how Pakistan prioritises its foreign relations, with the timing and nature of Pakistani exchanges with Saudi Arabia and Iran telling much.
Before visits to the United States, China and Iran, the first official visit made by the Foreign Minister was to Iran's regional rival and Pakistan's longstanding ally Saudi Arabia in mid-April, where he was part of Prime Minister Shehbaz Sharif's delegation.
Given that ousted ex-Prime Minister Imran Khan is known to have caused a major rift in relations between Islamabad and Riyadh, these visits indicated Pakistan's new leadership and military establishment understood the importance of repairing relations with Saudi Arabia.
Pakistan's military is known to hold significant sway on foreign policy and national security issues and is widely believed, alongside Prime Minister Shehbaz Sharif to be viewed favourably in Riyadh – especially more so than ousted ex-Prime Minister Imran Khan. This is due to Riyadh feeling Pakistan's military attaches more importance to relations with Saudi Arabia than with an Iran they view as hugely problematic.
The military's official public relations team have been on record recently reiterating developments relating to the country's economic situation. Given that Saudi Arabia is where Pakistan receives the largest portion of its remittances, significant and favourable energy and aid from – including more recent discussions over the conditional deposit of three-billion dollars to help Pakistan's struggling economy – it should come as no surprise that Pakistan's military views Islamabad's relations with Riyadh as a key to the country's long-term stability.
It is telling that Saudi Arabia was visited by both Pakistan's Prime Minister and Foreign Minister before the Foreign Minister visited Riyadh's major geopolitical competitor and Pakistan's neighbour Iran. Pakistan does not receive anywhere near the level of remittances, aid, trade, diplomatic support and security cooperation from Tehran as they do from Riyadh.
In fact, one investigative journalist in Pakistan recently claimed that the ex-Director-General of Pakistan's powerful Inter-Services Intelligence was fired after disagreements between Pakistan's military establishment and Imran Khan over the Iran issue, where the former Prime Minister endorsed Iran's accusations of Pakistani-sponsored terrorism in Iran.
Pakistani investigative journalist: Imran Khan undermined Pakistan's position with Iran and endorsed Iran's accusations of terrorism, there were serious disagreements between Khan and his intelligence chief esp over Iran, the intel chief was finally replaced by Khan. 👇 https://t.co/CBf5pwMQou

— FJ (@Natsecjeff) June 5, 2022
This is highly significant as Pakistan's Army Chief General Qamar Javed Bajwa, much of the military top brass, as well as many in the powerful Inter-Services Intelligence, are believed to have acted as proponents of a policy of appropriately dealing with Iranian hostility, which was fiercely opposed by ex-Prime Minister Imran Khan and his close associates. This Iranian hostility manifests itself through covert political, economic, religious and ideological influence, which aims to checkmate Islamabad geopolitically while also using subversion and militancy to destabilise Pakistan.
Iranian hostility in Pakistan continues
In what is a taboo topic to discuss in Pakistan, Iran is one the largest beneficiaries of a destabilised Pakistan, which means they are also one of the largest contributors to sectarianism, terrorism and geopolitical positioning against Pakistan. Though the extreme lengths Tehran historically and continually goes to destabilise Pakistan require their own report, there are recent examples which have happened even around the time of Foreign Minister Bilawal Bhutto's visit to Iran.
Pakistani military in a statement says it has killed 6 militants belonging to Iran-based BLF in Paroom, Balochistan near Pakistan-Iran border and recovered a cache of weapons, ammo and other equipment. pic.twitter.com/U2DjqOnO0y

— FJ (@Natsecjeff) June 19, 2022
In Pakistan's capital, Islamabad, posters of Ayatollah Khomeini have popped up once again. This should be worrying for Pakistan as significant swathes of Pakistan's population fall for the sectarian and ideological propaganda of a country that has plagued Pakistan with terrorism and geopolitical hostility.
How do thousands of #Khomeini posters across #Pakistan, a man who detested its southeastern neighbor and formed #TNFJ to export his exclusionary, militant cult? Will #Iran accept 100 posters of #Zia in Tehran? Karachi, Hyderabad, Quetta, Kurram, Gilgit/Skardu remain its hostage. pic.twitter.com/g3qE34ZDIL

— Naveed Ahmad 🌻 (@naveed360) June 15, 2022
Iranian propaganda also targeted Pakistan's Gilgit-Baltistan by using Shia Islamist music saluting slain IRGC commander Qassem Soleimani and Ayatollahs Khomeini and Khamenei. This is particularly worrisome for Pakistan as Gilgit-Baltistan is part of the disputed Kashmir region, contested by Iran's close geopolitical partner India. India maintains a presence in Iran, especially in Chabahar, and in the past, Pakistani governments and military top brass have accused India of using Iranian soil for covert operations against Pakistan.
Iranian indoctrination of Pakistani kids continues.

Students of Ahl al-Bayt College in Dasu, Gilgit-Baltistan perform the Iranian song "Salute Commander" while holding portraits of Khomeini, Khamenei, Qassem Soleimani. #Pakistan pic.twitter.com/uYUhpKuLoC

— FJ (@Natsecjeff) June 13, 2022
Meanwhile, the flags of IRGC-trained Zainabiyoun Brigade also recently appeared in Parachinar, Kurram.
Protestors in #Parachinar wave flag of #Zaynabiyoun Brigade, #IRGC-backed pro-Assad #Shiite militia, in a rally calling for the execution of blasphemer Sultan Gul.

Most Zaynabiyoun fighters hail from Parachinar, and currently deployed in #Albukamal town, Deir ez-Zour, #Syria. pic.twitter.com/fRWdVrzVbi

— SAMRI (@SAMRIReports) June 21, 2022
Worryingly for Pakistan's security establishment is the news of an official alliance formed between Imran Khan's party Pakistan Tehreek-e-Insaf and the Iran-linked Majlis-e-Wahdat-e-Muslimeen. Some of Iran's state-linked media has also been consistently providing positive coverage to Imran Khan's narrative of U.S. regime change conspiracy.
These examples are significant given the disagreements between the Pakistani security establishment and the ousted PM Imran Khan also allegedly involved Iran. It would be wise to consider that given Iran has invested huge resources to destabilise Pakistan, a few deals here and there between the new government in Islamabad and the regime in Tehran will not change Iran's hostile policies.
Conclusion
Islamabad is under no obligation to centre their policy in favour of neighbouring Iran over Riyadh's concerns, but Islamabad also cannot ignore certain realities about its relationship with both. Unfortunately, except as a security partner, Pakistan offers little to Riyadh, the leverage of which will be further weakened if Saudi Arabia joins the Abraham Accords. Given Riyadh views Iran as a primary threat, there is an element of Riyadh expecting security coordination with Islamabad on the Iran issue for Pakistan to qualify as an important partner.
This does not mean Pakistan is required to show open hostility towards Iran; it means that Pakistan itself first needs to be clear on its own domestic and regional objectives and there needs to be some political discourse in Pakistan about the previously taboo subject of the Iranian threat. Having fruitful relations with Iran would be a good thing for Pakistan, but Islamabad must decide whether it is even a realistic proposal while making the same mistakes revolving around appeasement, which have only emboldened the disruptive actors in Iran.
Pakistan can't continue to be fearful of losing Iranian support and trade when it is losing goodwill in far more reliable and important Saudi Arabia and its close Arab allies. Pakistan cannot afford to be fearful enough of Iranian retribution to let Tehran cause tremendous problems for Pakistan, both domestically as well as regionally. Pakistan must test a more forceful and resolute approach to dealing with Iran and observe what kind of results that yields. Many experts who have been monitoring Iran since the 1979 Islamic Revolution believe that the mullah regime in Tehran respects strength. It is important for Islamabad's Iran policy to maintain consistency and clarity, as right now Iran looks past Islamabad's appeasement approach straight toward the rewards it readily receives by sabotaging a fearful, submissive and unresisting Pakistan – this is something that coordinating more closely with Riyadh can help Pakistan in the long run.
Even the somewhat positive news that Iran would provide Gwadar with electricity is confusing. After all, Iranians are well known to have used their resources to influence Islamabad's geopolitical direction while also causing instability in Pakistan by facilitating militant groups like the BLF to prevent development in Gwadar – the jewel in the crown of the China-Pakistan Economic Corridor – since the Iranians have always seen it as a threat to their own regional ambitions, which involves their future plans for the port of Chabahar. Essentially the question is whether Pakistan is willing involve Iran in Gwadar, the same Gwadar that Iran has relentlessly tried to destabilise over the years? Is it good for Pakistan to have Gwadar become reliant on Iranian energy? Is this wise and does it even make any geostrategic sense?
With the current foreign minister of Pakistan belonging to the Pakistan People's Party (PPP), which has been historically seen as pro-Iran, who is serving under a Prime Minister belonging to Pakistan Muslim League N (PML-N), a party that is considered to have a pro-Saudi tilt, what does that mean for Pakistan's Iran policy?
Given that foreign and national security policymaking – including relating to Iran – were some of the key differences between the Pakistani security establishment and the previous Prime Minister Imran Khan, there are several important points of concern here.
Iranian extremist propaganda posters and videos finding their way into Pakistan are not new, but complaints of political inroads being built by the IRGC into Pakistan during Imran Khan's tenure don't obfuscate whose responsibility it is now to deal with the ever-present malign Iranian influence. Regardless of the negative foundation and contrary voices, it is the responsibility of the current government of Pakistan and the Pakistani security apparatus to deal with the Iranian threat. With that in mind, it would be irresponsible for Pakistan's Foreign Minister Bilawal Bhutto to call himself a "son of" a hostile Iran, which is frankly akin to rewarding or even encouraging an abuser in the hope they will relent next time – but Tehran has vested interests in Pakistan's instability.
With Pakistan's dire economic and political divides encouraged further by ousted and highly determined ex-Prime Minister Imran Khan, who has previously defended Iran-backed militancy in Pakistan, it is a difficult challenge to create a suitable narrative that convinces his party's supporters to get onside a set of policies that deal with the Iranian threat sensibly. But it is also the responsibility of ministers belonging to the present coalition government to follow a set of consistent policies and narratives that go above their party interests and are in line with Pakistan's national interests.