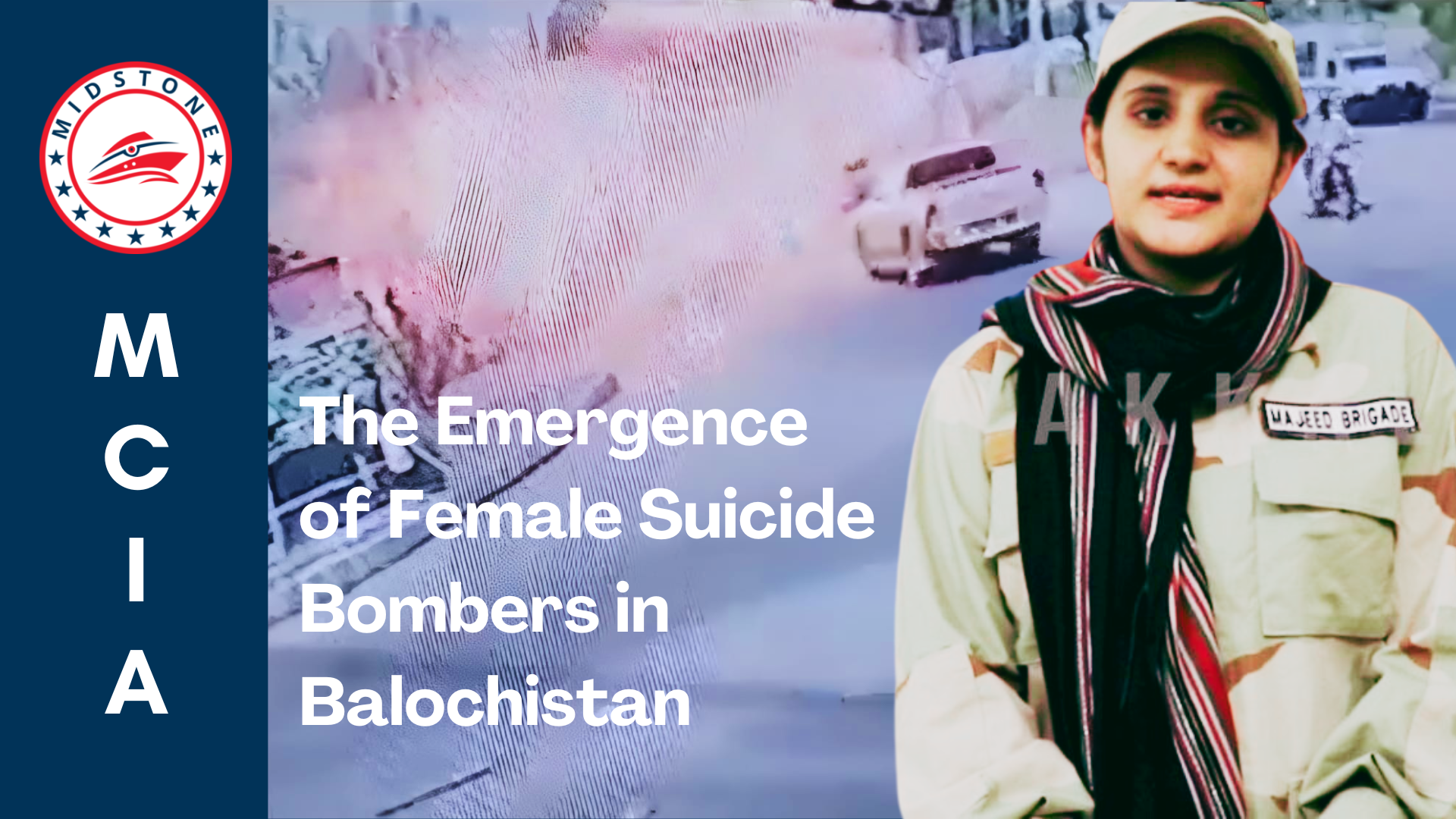 On June 24th, 2023, in yet another disturbing terror incident in Pakistan, a suicide attack occurred near a police vehicle in the Turbat district of Balochistan. Tragically, the attack resulted in the loss of a police officer's life, while a female officer sustained injuries. Separatist terrorist group BLA (Balochistan Liberation Army) claimed responsibility through its Majeed Brigade. 
As per the group's claim, the suicide bomber responsible for this incident was a female. The gender characteristic of the suicide bomber, the second such instance recorded recently in Pakistan, appears to be another dangerous trend emerging from the troubled region. 
CCTV FOOTAGE of the suicide attack carried out by BLA suicide bomber Sumaiya Baloch in Turbat city, Balochistan. https://t.co/WibV1FoHGp

— ⚡ (@cozyduke_apt29) July 1, 2023
The perpetrators
The Balochistan Liberation Army (BLA) is a separatist terrorist group operating in the restive Balochistan province in the southwest of Pakistan. The BLA's stated ambition is to achieve greater autonomy and independence for Balochistan. This ambition has led to their designation as a terrorist organization by Pakistan, the United Kingdom, and the United States. Notably, the BLA has targeted infrastructure projects, particularly those associated with the China-Pakistan Economic Corridor (CPEC).
The terrorist identified as having conducted the Turbat attack, Sumaiya Qalandarani (also known as Sumaiya Baloch), was a 25-year-old journalist associated with the Balochistan Liberation Army's (BLA) media wing for a period of 5 years. She had a personal connection within the BLA hierarchy, as she was not only the fiancé of Rehan Baloch, a prominent figure within the BLA, but also the daughter-in-law of Aslam Baloch, the founding leader of the organization.
BLA statement
The Balochistan Liberation Army released a 6-minute video featuring Sumaiya, the perpetrator responsible for the recent suicide bombing in Balochistan, as well as a photograph of female suicide bombers who are yet to carry out attacks and were also featured in this video.
BLA has released a video message of Sumaiya Qalandrani, the suicide bomber that targeted security forces convoy in Turbat on Saturday. In a first for any group in the region, the org has released pictures of several of its female members wearing suicide vests and Majeed Brigade's… pic.twitter.com/5bqeomUTxc

— The Balochistan Post - English (@TBPEnglish) June 26, 2023
This claim. is significant because it makes Sumaiya Baloch only the second female suicide bomber associated with the BLA and its Majeed Brigade to have carried out a suicide bombing attack. The first female suicide bomber, Shari Baloch, targeted Chinese citizens at Karachi University last year.
Second Baloch female suicide bomber
The emergence of female suicide bombers within the BLA highlights a notable shift in their operational tactics and recruitment. While the militant ecosystem of the region is generally defined through the prism of religious extremism, the BLA as a separatist militant organization is purportedly secular in its outlook. The training and deployment of female militants, especially for suicide attacks, is a detrimental development that an economically beleaguered and politically unstable Pakistan has yet to grasp. A consideration of the general sentiments in Balochistan, the broader internal security landscape of a nuclear-armed and intrinsically patriarchal Pakistan, and transnational/regional factors, allows for a more comprehensive if not exhaustively holistic assessment of the evolving separatism dynamics in Balochistan. 
According to the BLA's statement, Sumaiya Baloch underwent military training for 4 years. The BLA also claimed that the intended target of the attack was a convoy of Pakistani intelligence personnel at a road near the commissioner's office in Turbat, which resulted in damage to a police vehicle in the targeted convoy.
Funeral of Sumaiya Baloch 
The funeral of Sumaiya Baloch alias Sumaiya Qalandrani was led by Molana Khalid Walid Saifi, the vice president of the Jamiat Ulema-e-Islam-Fazal (JUI-F) in Balochistan. Other political leaders who attended the funeral included Ghulam Yasin of the Jamiat Ahle Hadith (JIP) and Haji Qadir of the Pakistan Peoples Party (PPP). Baloch separatists and independence activists celebrated the terror attack by Sumaiya Baloch and eulogized her death with social media hashtags.
The PPP suspended Haji Qadir from the party, while JUI-F has also issued a show cause notice to Molana Khalid Walid Saifi for leading the funeral of the terrorist.
The absence of representatives from Baloch nationalist parties, including the Balochistan National Party (BNP) and the National Party (NP), drew criticism from some Baloch citizens.
The funeral of Sumaiya Qalandarani has brought to the fore deep divisions within the Baloch political landscape itself, and highlights a shift in the tempo and momentum of separatist activity which is on the rise since 2021. The BNP and NP have received criticism from their support base, while other Pakistani parties such as JUI-F and PPP are seen as holding sympathies with those associated with or accused of separatist terrorism.
Revisiting the Shari Baloch terror attack
At 14:07 local time on the April 26th, 2022, a minivan carrying teachers of Chinese nationality began to turn towards the gates of Karachi University's Confucius Institute. Nobody on board could have even guessed that a conservatively dressed pedestrian standing on the right side of the Institute's gate was a suicide bomber, who detonated the explosive device as the van drew alongside. The bomb tore apart the minivan, instantly killing three Chinese teachers as well as their Pakistani driver, and injuring at least 4 others.
The traditionally dressed pedestrian was a woman – the first-ever female suicide bomber for the terrorist group Balochistan Liberation Army, and the only one before Sumaiya who had been publicly acknowledged as having carried out the attack by both the authorities and the separatist terror group.
Shari, also known as 'Baramsh', was a secondary school junior vernacular teacher in Kalatuk, a small cluster of villages around 20 kilometres west of Turbat in her native district of Kech in Balochistan. She had been absent without official leave for the six months prior to the Karachi University incident, and hadn't responded to the District Education Officer's notice.
Shari was said to be an educated and intelligent woman, according to sources familiar with her case. She achieved significant educational milestones, including completing a Bachelors in Education in 2014 (institution unknown) and a Masters in Philosophy in 2018 (institution unknown). Shari had also obtained her Master's degree in Zoology from the University of Balochistan, and pursued her M.Phil. at Allama Iqbal Open University's Turbat campus.
Interestingly, during her time as a student, Shari was regarded as unproblematic despite her affiliation with the Baloch Students Organization (BSO), a youth group involved in controversial activities in Balochistan and suspected to be the student wing of the BLA. The controversy surrounding BSO also acquires greater credence and relevance in the local context of the Baloch, as the students group has long been accused of advocating for separatist ideologies and of engaging in violent acts to further its objectives. Despite these associations, Shari was not perceived as a concern by the university administration during her academic years. This also raises serious question marks about the Pakistani security establishment's profiling apparatus, especially those departments tasked with identifying and deterring potential future militants and lone-wolf attackers. 
Shari came from a highly educated and respected family and, except for a distant cousin who was killed by Pakistani forces in 2018 during a military operation in Kech, none of her family members are currently missing or have faced enforced disappearances – it is so far unclear if there was any family-specific involvement or motivation for her to join, but there appears to be no personal, financial or deprivation issue involved in her descent into violent separatism. That a female scion of an educated and respected Baloch family chose the path of separatist extremism, and was motivated enough to die for her cause, requires serious introspection on part of Pakistan's national security policymakers. Not only has the menace of radicalisation and violent militancy spread from males to females, but defensive security protocols including physical checks on females will be nearly impossible to enforce due to the highly conservative and patriarchal mindset of the Pakistani population at large. 
Shari's husband Habitan Bashir Baloch is a dentist and student of the Karachi-based Institute of Public Health and a demonstrator at the Makran Medical College in Kech, Balochistan. Shari and Habitan celebrated their wedding anniversary before she conducted the attack.
"Shari Jan, your selfless act has left me speechless but I am also beaming with pride today. Mahroch and Meer Hassan will grow into very proud humans thinking what a great woman their mother will continue to remain an important part of our lives." — Habitan Bashir Baloch, April 26, 2022
Habitan Bashir Baloch posted this congratulatory message, with a picture of the couple and their children on the tweet after hearing about his wife's suicide bombing. He refers to his wife as 'Jan' which means life in Urdu.
Shari's father also had recent links to educational facilities as he had worked as a registrar for the University of Turbat. He was part of the district ombudsman team for three years, was director of the Water and Sanitation Agency (WASA) and served as a registrar at the University of Turbat lately. 
Habitan Bashir Baloch's comment on Shari's death:
"My daughter was a very cheerful and kind woman. The family is still in shock. It was and is beyond our comprehension that Shari could take anyone's life. None of us were aware of her affiliation with BLA. She was a happy girl, and we don't know what forced her to do this. Neither she had any suicidal tendencies nor radical thoughts. There is a lot of propaganda about her in the Pakistani press. Reports of her having mental problems or having differences with my family are untrue and baseless. Last we met was around three weeks ago in Karachi. Days before she committed this act, she had spoken to her siblings but didn't mention anything like this. She looked happy."

"We don't know. Shari's kids with their father are missing, and we have no contact with them. We also don't know who planned this attack & what forced them to commit this. Both couples were political. But we didn't know they were radicalized. I knew Shari sympathized with Baloch families affected by violence, enforced disappearances, & war. Her husband has had same views. But that is common in a closed society. I have heard Shari was a member of BSO Azad long ago. She also participated in their rallies at that time."

"We have not received the remains of Shari. Authorities have told us that the remains of suicide attackers are usually not handed over to the families. But we have been promised we would get Shari's remains after the Eid. The local authorities also fear Shari's funeral could attract thousands, and she may receive a heroic welcome in Turbat. That is a reason we haven't been given the remains yet. We still don't know what forced her to do this, and we have told the same to local authorities. All I can say is Shari was a stable, cheerful, and caring girl. She was politically curious and cared for the Baloch nation. Whatever she did has already become part of history. We request the media avoid speculations and propaganda and refrain from publishing cooked-up stories."
Shari also sent strange messages to some close family members and friends, asking them to "please forgive all mistakes." They assumed she was sending these messages in advance of Eid.
Shari had 3 brothers and four sisters. One of her brothers is a Tehsildar – a land revenue official of respectable standing – while another is an author and the third is a doctor. One of her sisters is an English lecturer and another, very interestingly, is an employee of the Balochistan Levies paramilitary force.
In Shari's extended family, other than her distant cousin who was killed by Pakistani forces as mentioned earlier, two of her cousins are doctors. One of Shari's uncles is a former professor, author and human rights activist.
Baloch Siddik Azad, Shari's great-grandfather, tweeted his congratulations on her terrorist attack:
"I am proud of fearless sacrifice and martyrdom of my great granddaughter Shari Baloch. Balochistan demands such sacrifices and Baloch children will continue to sacrifice their lives till complete independence of motherland. Our real goal is complete independence of Baloch land." – Baloch Siddik Azad
Pakistani provincial authorities in Sindh province arrested Dad Bux aka Shoaib, who is reportedly an IED expert with links to Iran. Sindh Information Minister Sharjeel Memon said that the attack on the Confucius Institute was a joint operation by the Balochistan Liberation Army (BLA) and the Balochistan Liberation Front (BLF) and that their leaders are living in a "neighbouring country." However, Memon refused to name the country, which is Iran.
Baloch Liberation Army issued a statement about Shari Baloch's suicide attack. Their media channel Hakkal Media published a poem from the group's Commander in Chief, Bashir Zeb Baloch, which was dedicated to the attacker. There were many accounts on social media belonging to BLA supporters that posted artwork, poems and photographs of Shari Baloch. The vast majority of these accounts did not belong to BLA-associated operatives, but to ordinary Baloch people – this should be a worrying sign for Pakistan.
The casualties
Shari's suicide attack claimed the lives of three Chinese teachers and their Pakistani driver. Four others were injured, including another Chinese citizen. The importance of the loss of human lives in terrorism must not be underscored, as it is a key driver for both the perpetrator's violence, as well as should be the state's motivation to tackle the threats.
Prof. Huang Guipin, one of the Chinese teachers, was the founder-director of Karachi University's Confucius Institute. He returned to Karachi after some time and was looking forwards to moving the institute forwards.
Lecturer Ms. Ding Mufang from Henan was one of the Chinese teachers killed. She was very popular with her students.
Ms. Chen Sai, 26, was one of the Chinese teachers killed. She was also very popular among her students. She held a Master's degree in Chinese Instruction from the Sichuan Normal University. She was a volunteer at the Confucius Institute.
Wang Yuqing was injured in the blast.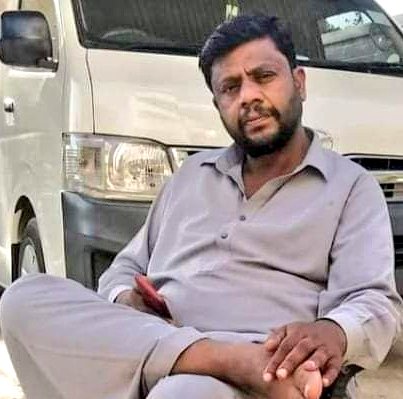 Khalid Nawaz, the driver of the minivan was killed in the blast. He had 5 daughters and two sons. He had worked for the Chinese teachers since 2016. The federal and Sindh governments announced a 2 million Pakistan rupee support package for his family. His funeral was attended by Chief Minister of Sindh Syed Murad Ali Shah and Fedral Interior Minister Rana Sanaullah.
The sentiment in Pakistan's Balochistan
The emergence of a female militancy wing within the Balochistan Liberation Army (BLA), specifically cultivated and maintained by its Majeed Brigade, is an extremely negative development for security and stability in Pakistan's Balochistan province.
Alienation and marginalization
The deployment of female suicide bombers like Sumaiya Qalandrani and Shari Baloch – and the recruitment of many others – signifies the growing seriousness of the grievances, and sense of deprivation and oppression, felt by the Baloch people; even women, members of the educated segments of society, and in the case of Shari Baloch, mothers, are willing to take up arms and sacrifice their lives to fighting injustices and oppression (perceived or otherwise) by the Pakistani state.
That Sumaiya, an educated woman with journalistic capabilities, chose to die fighting the Pakistani state instead of helping to improve the collective welfare of the Baloch people and of Pakistan, is a stark reminder of the few choices Pakistani women have at liberty and emancipation. Sumaiya's act of violence implies that she clearly felt no amount of peaceful protest to highlight the actual concerns of the Baloch would get any attention or benefit, and to die fighting the Pakistani state was the option that most appealed to her. That a functional apparatus exists to radicalise, recruit, train, motivate and deploy these young Baloch, many of whom feel alienated in today's Pakistan, is a failure of the country's self-perceived omnipotent security establishment and its vaunted premier intelligence services. 
The trend also applies to Shari, who preferred terrorism and a violent death over raising her own children; she had a husband who apparently encouraged motherlessness for his own children if it meant violence against the Pakistani state. Investigations revealed that Shari had meticulously planned the location and timing of her attack and that she had attempted to detonate her device at the site a day before the attack, but it failed. This implies that such separatist non-state actors and their recruits are extremely motivated in their vision and ideology, to the extent that they will re-engage their target if they are not apprehended after a failed attempt. As in the case of Shari Baloch, she returned the next day and executed her attack against her intended target.
From grievance to extremist violence
Both Sumaiya and Shari were referred to by their sympathisers and organizational leadership in their media as 'fidayees', which refers to individuals who are willing to sacrifice their lives for a cause.
The nature and scope of BLA's operational recruitment tactics underline the need for the Pakistani state to substantively address the grievances of the Baloch population. It is crucial that the Pakistani state recognize that neglecting the welfare and aspirations of the Baloch people will have grave consequences, as evident from the radicalisation of those segments of the population that were presumed to have no inclination or incentive for extremist action. 
Insofar as the Pakistani state fails to adequately address the grievances of the Baloch people, kinetic responses and military solutions will only exacerbate the cycle of violence and separatist terrorism. Incidents of separatist or Islamist terror become a justification for the use of military force and heightened security measures in Balochistan, further deteriorating the lives of the Baloch people.
Vicious cycle of 'otherization'
This vicious cycle of 'otherization' – creating functional identities and identity associations based on human differences and exclusionary agency – not only undermines the well-being of the Baloch people but also hampers the prospects of achieving a sustainable and optimally beneficial resolution between the Baloch people and the Pakistani state. Many Baloch dissidents and exiles consider Balochistan province to be under what they claim "illegal occupation" of Pakistan, to signal that the Baloch identity is at odds with the Pakistani state's failures to address their legitimate grievances, if not the Pakistani national identity as well. 
This seemingly perpetual cycle of alienation, radicalisation and violence has created causes for concern and pessimism as regards the relevance and attractiveness of the Pakistani state to the average Baloch. Moreover, the apathy and indifference to the Baloch on the part of the Pakistani mainstream – the federal and provincial elites, feudal landowners and capitalist financiers, and state-sanctioned opinion-makers – diminishes any potential hope of the Pakistani nation, the general public and civil society, being able to at least mainstream Baloch voices, as a first step towards understanding and addressing Baloch grievances with Pakistan. 
This cycle is also among the reasons why "#SumaiyaTheLegend" was trending on Twitter and why many ethnic Baloch sympathised and eulogised BLA terrorists on social media. This is also why so many people related to Shari Baloch openly supported her violent actions. Most importantly, there is no public attention or acknowledgement on the part of the Pakistani state, or discourse in Pakistani society, over these public displays of sympathy for terrorism in Balochistan.
It must be noted that the attack by Sumaiya was part of a string of recent attacks in Mastung and Quetta that the BLA has claimed responsibility. The separatism and militancy ecosystem in Balochistan has deteriorated immensely, and the recruitment of female militants and suicide bombers only goes to show how bad things are for the Pakistani state in Balochistan. In addition to this display of a 'new weapon' in its arsenal, regular operations of the separatist group continue across Balochistan.
While the BLA and groups like the Majeed Brigade may claim to be acting in the interests of the Baloch people, their violent tactics ultimately contribute to the worsening situation in Balochistan. Their terrorist activities also make it difficult for human rights activists, and proponents of the Baloch people in mainstream Pakistani civil society, to promote the legitimate cause of mainstreaming Balochistan into Pakistani society and mitigate the sentiments of alienation and marginalization felt by the Baloch people. The issue of Baloch missing persons has plagued the process of reconciliation between the Baloch and the Pakistani state, specifically its national security apparatus, which is now facing accusations of state-sanctioned enforced disappearances. Moreover, a nascent movement for greater rights and improved public services in Gwadar, the port city that is the lynchpin of China's investment in Pakistan, has also been suppressed by legal action. 
Layers of complexity in the Balochistan conflict
The scale of Pakistan's Balochistan welfare and militancy problem is attaining severity with each passing day: BLA is not the only active militant group in the vast and restive province. Another belligerent is the Iran-backed terror group Balochistan Liberation Front (BLF), which recently claimed responsibility for killing 6 Pakistani soldiers, including a Major, in an ambush attack. Other Baloch separatist terrorist groups claiming responsibility for attacks include BRA (Baloch Republican Army), BLUF (Baloch Liberation United Front), and BRAS (Balochi Raaji Aajoi Sangar). Moreover, the TTP (Tehreek-e-Taliban Pakistan) also announced a province or 'wilayat' operating in the Zhob district of Balochistan, appointing Sarbakaf Mohmand as its "governor", in a sign that other terrorist groups are also taking advantage of the insecurity and vacuum in the province. 
Pakistan's Balochistan problem assumes even more complexity as there are both domestic welfare and geopolitical elements at play. Terrorism is never justifiable and must always be condemned. This is certainly the case for Baloch separatist terrorism in Pakistan. But that does not absolve the Pakistani state from understanding the seriousness and legitimacy of Baloch grievances, from addressing human rights violations, to improving the economic and educational well-being of Balochistan, and the proper integration of Balochistan into Pakistani political decision-making.
The lack of basic welfare rights for Pakistan's Baloch people is the engine that spurs separatist sentiment in Balochistan. Countries like Iran exploit these sentiments against Pakistan, despite also committing atrocities against the Baloch in their own country.
Meaningful dialogue and positive steps
Baloch nationalist sentiment can only become compromising towards the Pakistani state if the state begins to address key issues the Baloch have faced for generations. The dialogue could have a hugely positive impact on the stability in Balochistan, as well as help reduce any sympathies of the Baloch for the destructive separatist terrorist groups. But such dialogues must be meaningful, result-oriented, and a healing process for society at large.
The first positive steps must be taken by the Pakistani state. This would involve addressing the economic and political marginalisation of the Baloch people, as well as respecting their fundamental human rights as a priority over interpretations of national security. If the Pakistani state is willing to take these steps, it would be the first step to de-escalate the conflict in Balochistan and build a more peaceful future for Pakistan as well as the region.
Balochistan can be a key driver for Pakistan's stability and growth, but for this to happen, Pakistan must address the woes of the Baloch people, who are, after all, Pakistani. Without mainstreaming the Baloch population, Pakistan will also not be able to realize the true potential of its multi-billion dollar China-Pakistan Economic Corridor (CPEC) initiative, which has so far created more repayment problems than economic capacity for Pakistan.